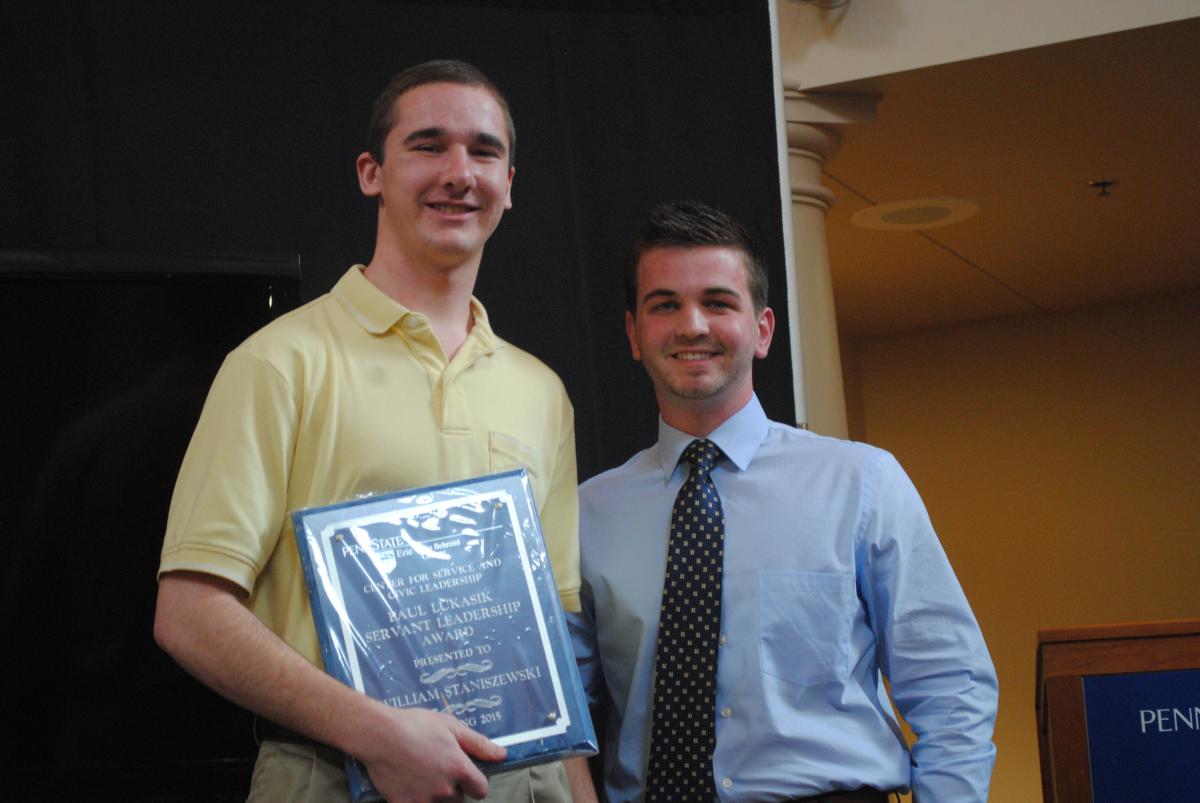 Paul Lukasik unassumingly walked to the podium, flashing an abashed smile at the crowd of more than 50 people in attendance at Penn State Behrend's Center for Service and Civic Leadership's Service Awards.
"Just so you know, my face gets red when I get nervous," said Lukasik, displaying humility that's fitting in light of the award he was about to present: The Paul Lukasik Servant Leadership Award.
The award, created and presented to Lukasik in 2014 and subsequently named in his honor, recognizes a Penn State Behrend junior who, through leadership in a student organization or class, encourages others to engage in service and civic engagement.
This year's honoree was Bill Staniszewski, a junior mechanical engineering major who has completed numerous service projects with THON and Triangle Fraternity.
"Being honored with this award was the highlight of my semester. It really means a lot to me, especially as one of the leaders of Behrend Benefitting THON," Staniszewski said. "When I heard that I was the recipient, it helped to reaffirm my commitment to leading by example."
For Lukasik, having an award named in his honor has been a humbling experience.
"It's hard to put words to it. Presenting the award hammered home to me that this is something that will stay even after I'm gone," said Lukasik, a senior project and supply chain management major. "My hope, though, is that people will look beyond the name of the award and see its intention."
Naming an award after a current student is an unconventional practice, but according to Carrie Egnosak, an academic adviser and a member of the Service Awards Committee that created the award, Lukasik is especially deserving of the honor.
"Paul has just been so involved with service from the very first moment he stepped onto campus," Egnosak said. "He's one of the few students who has participated in every Alternative Spring Break trip since he's been here, and he tends to take on a leadership role with any club or organization that he becomes involved with. Everybody who knows him loves him because he would do anything for anyone."
Since arriving at Penn State Behrend, Lukasik has contributed to service projects through Reality Check, Behrend's community service-oriented club; Omicron Delta Kappa, the national leadership honor society; Relay for Life; and Alternative Spring Break. He also has served as a resident assistant.
Lukasik said his commitment to service dates back to childhood, helping out at Fair Haven's Church, founded in North Tonawanda, N.Y., by his grandparents.
He contends his commitment to service won't be changing anytime soon. After graduation, he plans to do volunteer work through GE Transportation, where he has accepted a position in the Commercial Leadership Program, and also hopes to make a service trip to David's Home, an orphanage founded in Haiti by Fair Haven's Church.
Lukasik said he is grateful for the opportunities he has had at Penn State Behrend, and he hopes future students will continue to pursue service work.
"Behrend as a whole has given me so many opportunities. I've had internships, gone on service trips and had leadership positions," he said. "The service work just draws you in. It's mutually beneficial and so rewarding. No matter how busy you are, there's always something you can do, and I think it's our civic duty to give back."