Mary Behrend once gave her oldest grandson a piece of advice about speaking in public: "Keep it short," she said.
On Oct. 24, Richard Sayre told the audience gathered for the unveiling of the new student-designed Mary Behrend Monument at Penn State Behrend that he was reminded of his grandmother's words and would honor their spirit, but wanted to share two anecdotes that illustrated her lifelong commitment to giving.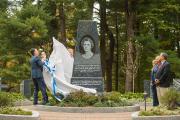 The first, Sayre said, started after Mary donated her summer home and farm to Penn State. She moved to Connecticut, where she took up the hobby of buying dilapidated doll houses. After repairing and refurbishing a house, Mary would write a short story about each room. When the decorating and writing were complete, Mary donated the houses and their accompanying narrative to charity auctions.
Then, at the age of 83, Mary founded Greenwich's Golden Ring Society, which hosted afternoon parties in her backyard for older people who might be lonely. Sayre said it was typical that his grandmother, "even into her 80s, worried about people in their 60s and 70s who wouldn't have enough to do on a Sunday afternoon."
Sayre's remarks underlined what the audience already knew: Mary Behrend always was thinking of others.
Mary's 1948 donation of her summer home and farm to Penn State in memory of her late husband, Hammermill Paper Co. co-founder Ernst Behrend, allowed Penn State to establish a permanent presence in Erie. From 146 students at its opening 67 years ago this week, the campus has grown into a four-year and graduate college with an enrollment of 4,700.
Brennan Zanella '13, one of the monument's student designers, was part of the small group that in 2013 approached Ken Miller, senior director of Campus Planning and Student Affairs, with a plan for a tribute proportionate to Mary's gift: a nine-foot granite centerpiece surrounded by benches, historical markers, gardens and inscribed pavers.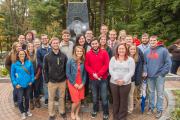 "My friends and I had been discussing the opportunities and resources we had at Behrend," Zanella said in recounting for the dedication audience the group's concern that Mary's gift was not visibly acknowledged on campus. "Without this land we would not have met and had the experiences we did."
The monument was primarily funded through the sale of inscribed walkway pavers. The students set them in concentric circles radiating from Mary's etched portrait as a reminder of how her gift continues to grow in influence. Pavers still can be added to the project; visit behrend.psu.edu/monument for details or to make a tax-deductible purchase.