Ralph Ford, former director of the School of Engineering and associate dean for industry and external relations at Penn State Erie, The Behrend College, has been named chancellor of the college. He had served as interim chancellor since July 1.
Ford was selected following a national search. As chancellor, he will serve as the chief academic and administrative officer for the college.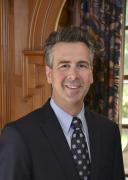 "Dr. Ford brings proven leadership experience in a range of areas, including strategic planning, academic program development, business and financial operations, research and outreach initiatives, and fundraising," said Madlyn Hanes, vice president for Commonwealth Campuses at Penn State. "He has the vision, energy and collaborative spirit to move Penn State Behrend into a new era."
Ford has been with Penn State since 1994 as a faculty member, academic program director and senior administrator at Penn State Behrend.
"I have chosen to spend more than 20 years of my career at Penn State Behrend because I believe deeply in the people and principles on which the success of our college rests," he said. "I am committed to bringing many people, representing diverse perspectives, together to develop and implement the ideas and actions that will lead the college to new levels of excellence."
Before joining academia, Ford worked as an engineer and researcher at IBM and Brookhaven National Laboratory. He also served as a vice president of the Institute of Electrical and Electronics Engineers, the largest technical professional society in the world.
As director of the School of Engineering at Penn State Behrend, he created new majors and research centers and increased enrollment. The school has nearly 1,400 students and is consistently ranked among the nation's best undergraduate engineering schools by U.S. News & World Report.
As associate dean for industry and external relations, a role he assumed in 2013, he coordinated the college's open-laboratory model of industry-academic collaboration, which matches students and faculty members with private-sector partners for experiential student learning, applied research and advanced product development. He oversaw the college's strategic partnership with Knowledge Park, a 100-acre technology hub where 20 companies employ more than 500 people, and led development of the $16.5 million Advanced Manufacturing and Innovation Center, which this year will add 60,000-square-feet of manufacturing, materials and prototyping labs, including the region's first secure lab for government research.
"Dr. Ford's background demonstrates an ability to marshal the resources of a world-class University to benefit our students, support our campus community and advance the goals of external partners," said Pam Silver, distinguished professor of biology at Penn State Behrend and chairwoman of the 18-member search committee. "His inclusive leadership style will be critical to further strengthening our portfolio of academic programs, including interdisciplinary offerings, and creating synergies across the college and between the college and community."
Ford has been instrumental in securing more than $40 million in external funds and gifts for Penn State Behrend, including, in 2012, a first-of-its-kind gift from Autodesk, a top software developer, which made its suite of products available to all students at the college.
In 2015, he partnered with colleagues in the college's Black School of Business to launch a three-year, $750,000 initiative to spur business innovation and support entrepreneurs across the Erie region. That program, which is supported by the Erie County Gaming Revenue Authority and Mercyhurst University, aims to create an entrepreneurial network that unites academic, industry and economic development teams.
Ford holds bachelor's, master's and doctorate degrees in electrical engineering, earned at Clarkson University and the University of Arizona. He was a Fulbright Scholar at Brno University of Technology in the Czech Republic.