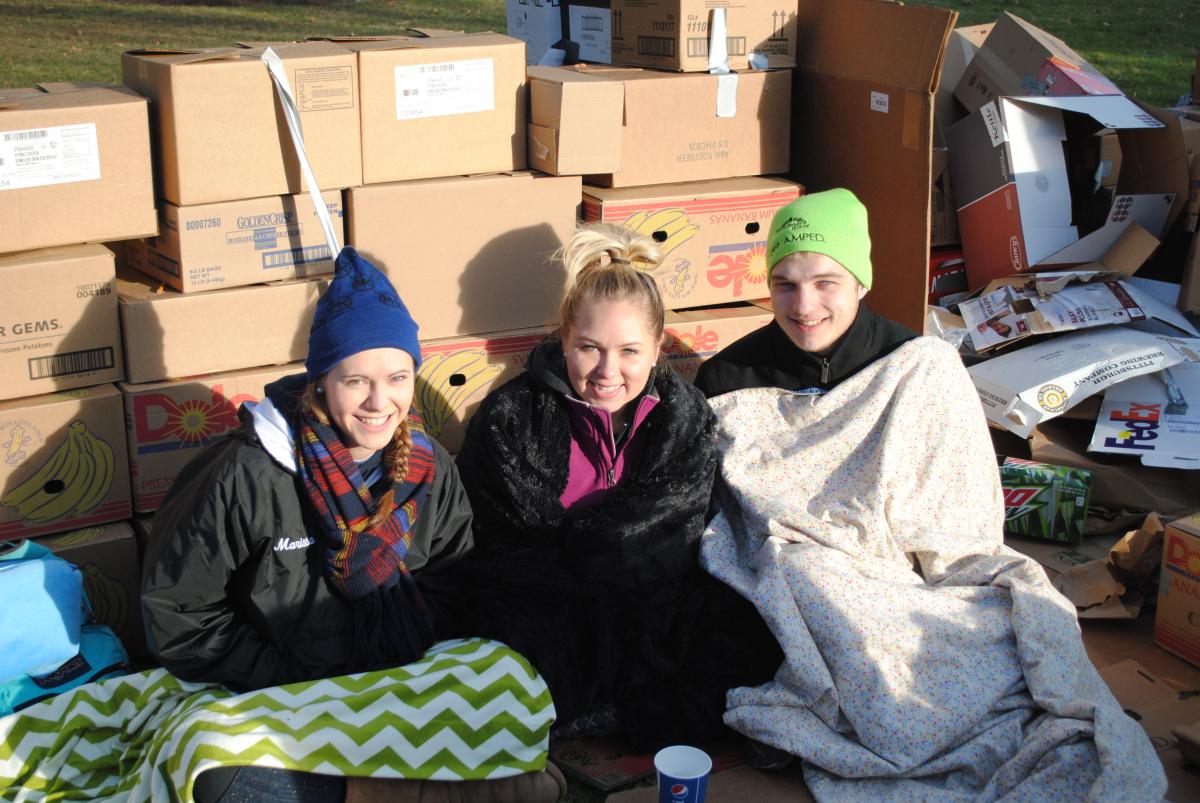 Lindsey Chase was ready for the rain, wind, cold and hunger. That back pain though, now that caught her off guard.
"We didn't realize our backs would hurt," she said. "For the people that live like this, you realize that they're hungry and cold, but their bodies must hurt as well."
Chase, a sophomore biology major, participated in the annual Cardboard City fundraiser at Penn State Behrend on Nov. 16 and 17. The event requires teams of students to build homes using nothing other than cardboard, duct tape, boxes and any other disposable materials they can find.
The students live in the shelter for 24 hours, taking shifts, all in an effort to raise funds for the Second Harvest Food Bank of Northwest Pennsylvania. For every dollar that was donated, Second Harvest can purchase $17 worth of food.
For the first time, this year's Cardboard City coincided with National Hunger and Homelessness Awareness Week. The week is coordinated by the National Coalition for the Homeless and is meant to be a time where communities come together to share compassion for those who are experiencing homelessness while also working toward a world where hunger and homelessness do not exist.
Chase participated in the event as part of the Lambda Sigma National Honor Society. She and her partners had hoped to work on some homework during their shifts, but that does not work too well without light.
"That was something else we did not think about," said Briana Young, a sophomore physics major who stayed in the Lambda Sigma house. "There's no electricity, and that's another thing that (the homeless) must deal with every day."
A total of 18 teams and 20 student groups participated in this year's fundraiser, which began at 10 a.m. on Nov. 16. This year's participants benefited from unseasonably warm temperatures for November, but sleeping conditions were still a far cry from a warm bed in a residence hall.
"The wind was probably the worst part," said Jeremy Stonesifer, a sophomore communication major who stayed in his cardboard home from 4 p.m. on Nov. 16 through the end of the event. "This really offers a new perspective. There are people out there who you may not personally know, but you know they're dealing with hunger and homelessness and fighting to survive. This makes you want to help them even more."
Marissa Knox agreed. She stayed in the same home as Stonesifer, which was sponsored by the Alpha Sigma Tau sorority and the Kappa Delta Rho fraternity.
"It's very grounding," the sophomore communication major said. "We're lucky enough to go to school every day, so to get away from that, even for one night, really offers a different perspective."