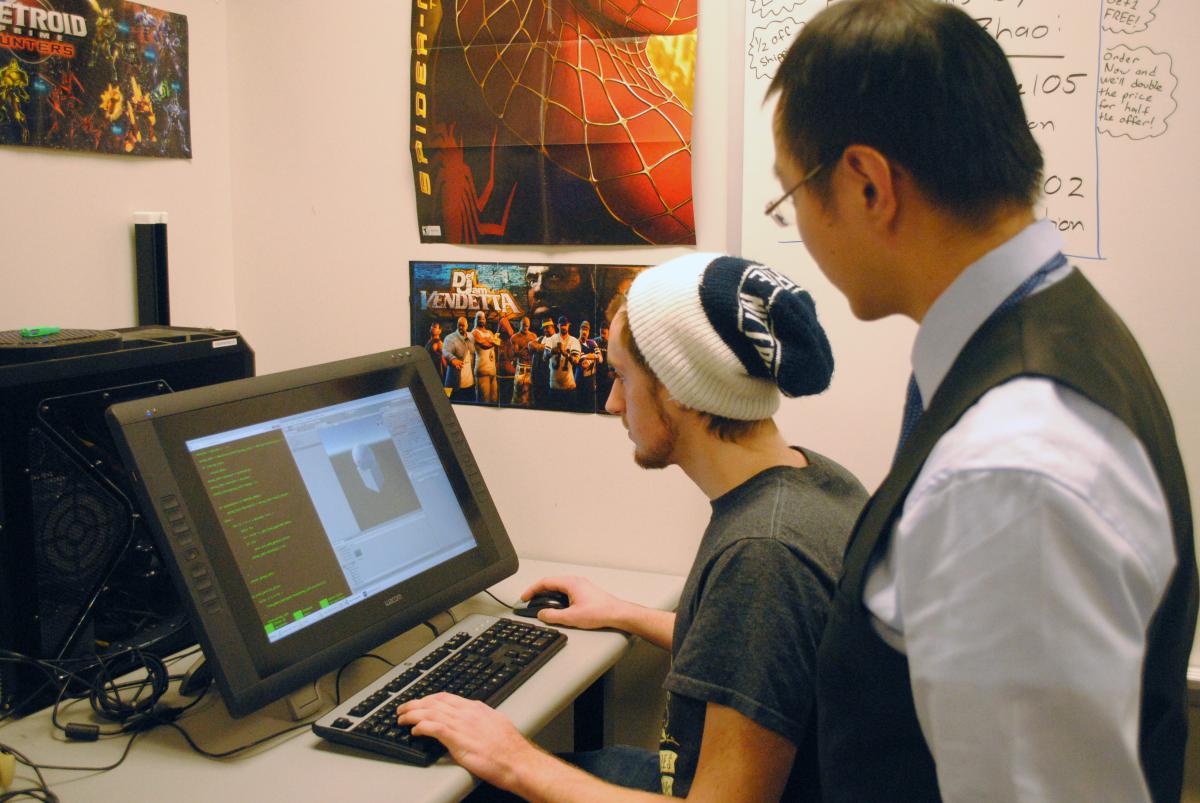 Adam Winterbottom sat detached from his surroundings, blankly staring ahead at the wall in the Game Development Lab of the Jack Burke Research and Economic Development Center.
"Uh, maybe you should go get some sleep," said Peter Kalmar, a senior computer science major and one of Winterbottom's partners for Global Game Jam 2016.
In normal circumstances, Winterbottom's state might be a cause for concern, but on this day, it was par for the course. Together with teammates Kalmar, Austin Kelleher, Joe Tomasko and Brandon Kendall, Winterbottom was a participant in Global Game Jam, an annual hacker marathon in which teams have just 48 hours to create, code and upload a finished game to the web, where anyone can play it.
This year's event started Friday, Jan. 29, at 5:00 p.m., and this marked the fourth year that Penn State Behrend students participated in the jam. A total of four Penn State Behrend teams, comprised of 22 students, created games. That was just a small part of the larger event as more than 36,000 jammers across 93 countries created nearly 6,800 games, making 2016 the largest Global Game Jam yet.
"It's an experience that students otherwise wouldn't get in the classroom," said Richard Zhao, a lecturer in computer science and software engineering who oversaw the event at Penn State Behrend. "They have the freedom to express their ideas, almost in the form of art. It's also certainly very valuable from a project management perspective because even if they do not want to make games (for a living), this type of collaborative experience is always going to be helpful."
However, before the jammers could manage the project, they had to first identify a project that would actually be manageable. That's easier said than done.
"We had to think of something that would actually be possible to create in 48 hours," said Kalmar, who was participating in his fourth Global Game Jam at the college. "Also, the design process never ever stops because you just start 'hacking stuff together,' especially in 48 hours. You're just pushing through to get a final product."
Teams' games are also required to stick within a respective theme. This year's Global Game Jam theme was ritual, which is open to the jammers' interpretation.
Kalmar and his team originally related the theme to occult-like rituals, but that would not have satisfied one of their major goals: making a family-friendly game.
"We're spitting out ideas, and we realize that these are not going to fit all age groups," Kalmar said. "So we kept thinking and decided to take ritual to mean going to work every day. That's your daily ritual."
That led the group to develop a title and concept: The Rush.
"We pictured this guy just sitting in morning rush hour traffic and just getting so angry. Then, suddenly, he snaps," Kalmar said.
The game, which was developed for mobile platforms, has players drive to work as quickly as possible in an effort to arrive there before the opposition. Players must carefully navigate the path, avoiding obstacles and other drivers along the way.
Completing The Rush in 48 hours was no easy task. There were cranky moments and as Winterbottom can attest, some team members were even asked to go take a nap. However, the group was ultimately satisfied with the final result: a multiplayer racing game that can be easily enjoyed by anyone.
"I really thought it would be fun to push the limits and make a game in 48 hours," said Kelleher, a senior Computer Science major. "It certainly was exhausting but tons of fun."
It could also be the start of something more. The group plans to further develop and fine-tune The Rush and eventually release it on the Google Play Store and the Apple App Store.
"Basically, what we have right now is not a game, but a prototype," said Kendall, a senior computer science major. "That's what makes these game jams so great. They just launch an idea that hopefully we can continue to develop."
Other games developed by Penn State Behrend students include Sacrament of Panda: Pandamonium, The Journey of White Robe and The Ritual. To download and play any of the games, click here.