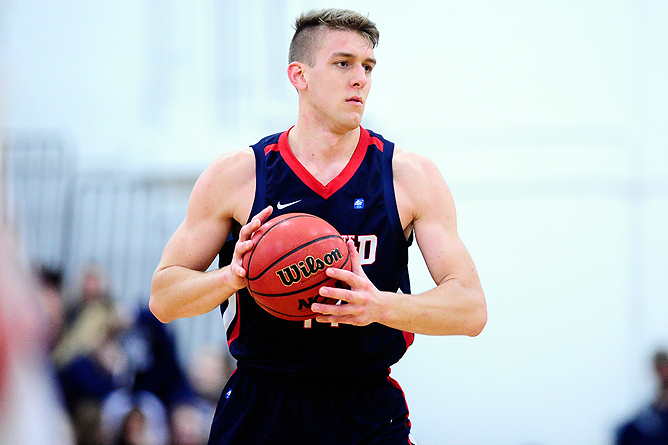 The Penn State Behrend men's basketball team is ranked No. 24 in the nation and made up mostly of freshmen. Given that, the team's future seems very bright.
But head coach Dave Niland is not taking the recent success for granted. He's focused on the present. A big reason for that, both literally and figuratively, is Zane Hackett.
Standing six-feet, seven inches tall and weighing 215 pounds, Hackett is an imposing basketball force at any level, let alone Division III. The Brookville native leads the team in points (17.2), rebounds (10.5) and blocks (1.3) per game.
"We're not going to be able to go out and replace Zane in our recruiting," Niland said. "You're not going to find another player walking through the door like him, so you have to make the most of it while you have him."
As the team's lone senior, Hackett's value goes beyond the numbers.
"Teams typically are only going to be as disciplined or mature as their older guys," Niland said. "When Zane was a younger player here, we had some terrific older guys, and I'm sure he envisioned filling that role one day, and he's gone on to exceed that, in my opinion."
Niland said he was not sure what to expect heading into this season. Not only was the team welcoming nine new freshmen, but it also lost six seniors and three starters to graduation.
Hackett was forced take on the leader role, and it's a role he has embraced.
"Previously, I was more of a lead-by-example type," said Hackett, a mechanical engineering major. "This year, there has been a transition where I have gone from leading by example to vocalizing my thoughts just so these guys get to understand what it takes to play at this level."
That's not always an easy thing. Being a vocal leader means you sometimes have to be the bad guy, and that does not always resonate with young players. It means challenging players to maintain their intensity, whether they're competing in practice or playing in a game.
However, Hackett said the team has responded well, making his job all the easier.
"(Their transition to college basketball) was really quick," Hackett said. "We really needed them, and they have been able to contribute in a big ways, so it's been great. At this point of the season, if you didn't already know they were freshmen, I don't think a lot of people would assume as much."
The freshmen's quick acclimation coupled with Hackett's leadership are key reasons for the team's success. The Lions are currently ranked No. 24 nationally by D3hoops.com and can clinch the regular season AMCC crown by winning just one of their last two regular season games this week.
"There's so many things that a first-year player has to learn, and you just don't know when guys are going to mature on the court," Niland said. "You can't underestimate Zane and our returning players. They've been terrific. Without them, there's no way we'd have the type of year we've had."