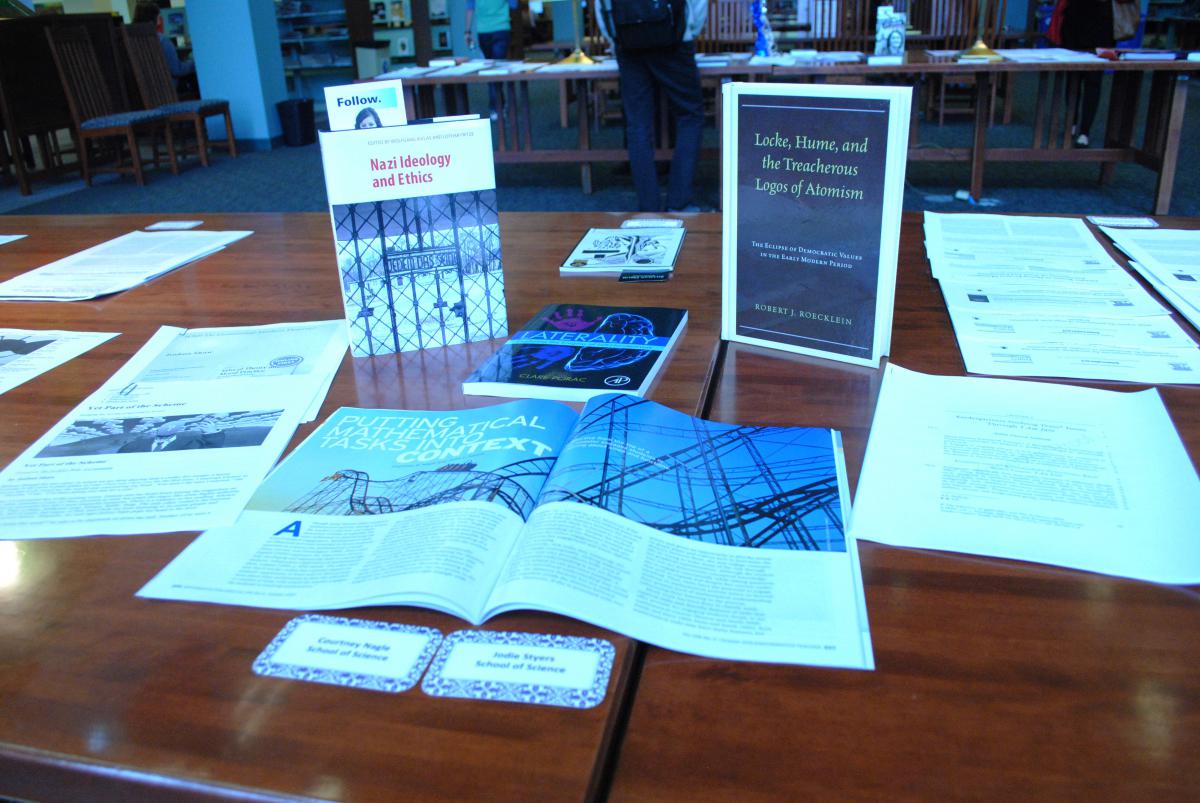 The scholarly works of 38 faculty members were on display Thursday, April 21, at the Faculty Publication Reception at Penn State Behrend.
The reception, held at the college's John M. Lilley Library, gave Penn State Behrend faculty members the opportunity to display work published since 2014. Publications included authored books, peer-reviewed journal articles, conference papers, chapters or essays appearing in textbooks, and other print.
In total, 142 works were on display. All four of the college's schools (Black School of Business, School of Engineering, School of Humanities and Social Sciences and School of Science) were represented at the reception.
Faculty works showcased at the reception included:
A scholarly journal article "Exchange Traded Funds, Liquidity, and Market Volatility" co-authored by assistant professor of finance Tim Krause in Applied Financial Economics.
The book Laterality: Exploring the Enigma of Left-Handedness by professor of psychology Clare Porac.
The sixth edition of the book Instructor's Solutions Manual for Elements of Electromagnetics co-authored by associate professor of electrical and computer engineering Sudarshan Nelatury.
A scholarly journal article "Putting Mathematical Tasks into Context" co-authored by assistant professor of mathematics Courtney Nagle and lecturer in math education Jodie Styers in Mathematics Teacher.
A scholarly journal article "Zombie Ant Fungus" by associate professor of philosophy Joshua Shaw, published in Hobart.
The book Innovation in China: The Tail of the Dragon by associate professor of management William Johnson.
The reception was coordinated by reference and instruction librarian Stephanie Diaz.
"This event focuses solely on the scholarly achievements of faculty members," Diaz said. "It offers a way to highlight the value of their work and let them know their efforts are recognized and appreciated."
This marked the fourth time that the Faculty Publication Reception was held at Penn State Behrend.