In keeping with Penn State Behrend's longstanding tradition of inviting a member of the faculty to address graduation candidates and their guests, Dr. Ashutosh Deshmukh, professor of accounting and management information systems, was the speaker at the Friday, May 6, commencement at Erie Insurance Arena.
Dr. Deshmukh is program chair of both Penn State Behrend's Master of Professional Accounting (M.P.Acc.) degree program and the Penn State World Campus iMBA. The M.P.Acc. presented its first candidates for graduation at the ceremony.
After earning an undergraduate degree in chemistry from the University of Mumbai, Dr. Deshmukh pursued an M.B.A. from the University of Alabama and Ph.D. in accounting from the University of Memphis. He is the associate editor of the Journal of Accounting, Auditing, and Performance Evaluation and author of the book Digital Accounting: The Effects of the Internet and Enterprise Resource Planning on Accounting. He joined the Black School of Business accounting faculty in 1993.
The title of Dr. Deshmukh's address was "Future Imperfect." Find a gallery of photos from the ceremony on Penn State Behrend's Facebook page.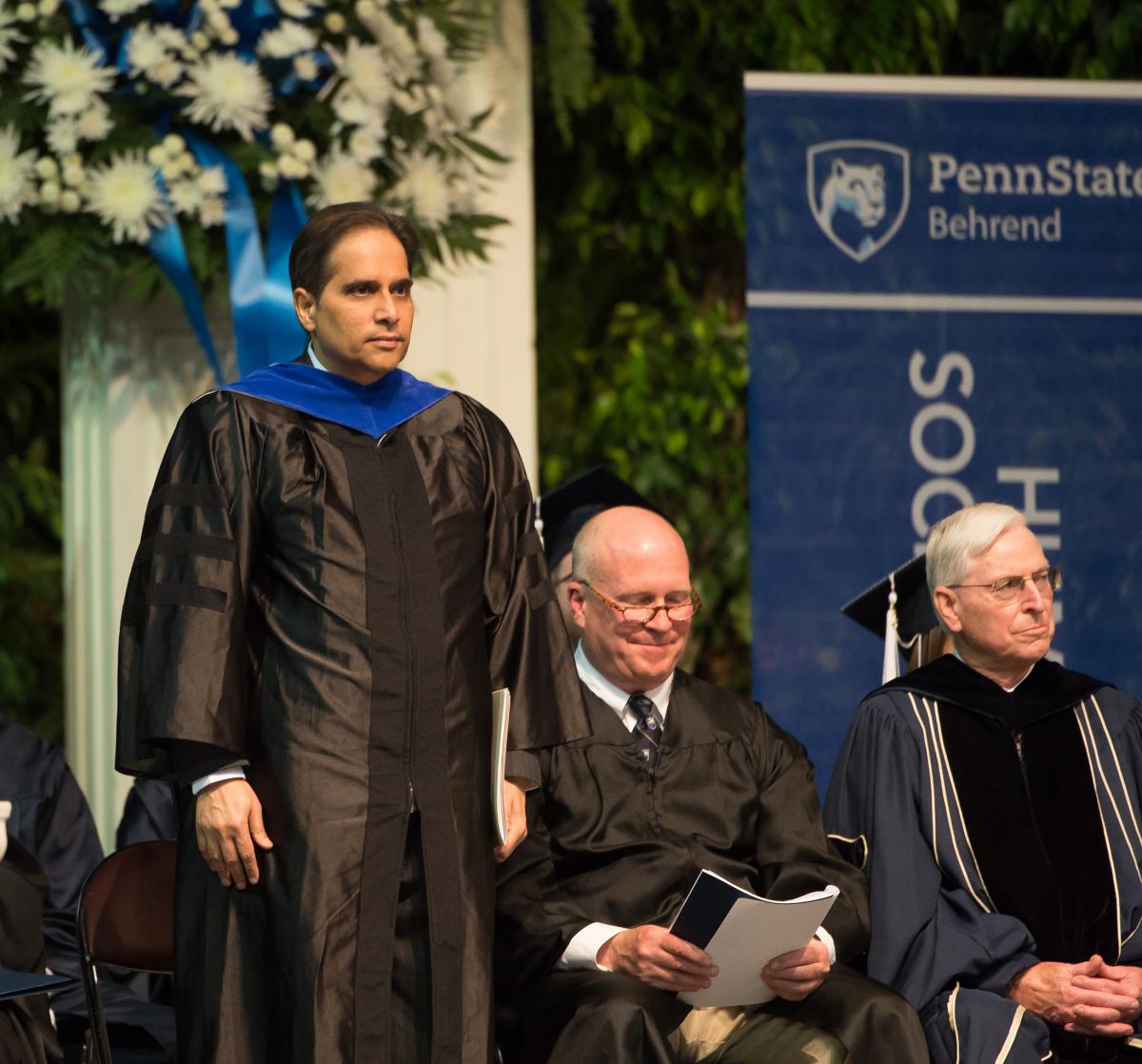 Thank you, Dr. Blasko. And thank you, Dr. Ford, for this opportunity. Congratulations graduates!
You have worked hard and reached the finish line. This is a thrilling moment for all of us. I would also like to congratulate the parents and families of the graduates; this day is a triumph of your love and support. This is your moment also.
It is an honor to address you and your families and my colleagues on this special day.
I am very aware that I stand between you and the glorious celebrations soon to follow. In fact, I am also eager to drink – water! – with my accounting students.
I am reminded of a conversation with my dear friend Jeff. We were together in my doctoral program, and when I became a full professor, I called him and told him the news. Jeff told me, Ash you deserve it! I said, Really? He told me, Absolutely because you are so full of it!
In my class, I have always told my students that I don't care about feelings. Tell me where the evidence points, what the numbers tell us, and what is the logic of the situation. However, today I talk about what is in my head and my heart. Evidence, numbers, and logic, though powerful tools, are poor proxies for the richness of life.
So here are my two cents.
All educators are storytellers. Our stories may not always have epic battles or magic, and may not even be entertaining. But we hope that of the many stories told to you at the university, you may find one that will take a residence in your soul. It will give you drive, passion, and purpose. As you sit here, you have certainly found a story that resonated with you, from English to engineering and from biology to business.
As you stand on the doorsteps of the real world, the stories will evolve. How will you shape your story? I offer you some thoughts. These are not new, but they guided me in in my life. I offer them for your analysis and evaluation.
First: Define yourself
We all wrestle with the same problems of life – how to become happy, how to be successful, and so on. I do not know the answer and for that matter no one knows. I believe the first step is to know thyself, as the Greeks wrote on the gates of the Oracle of Delphi. A very difficult and unnerving process, always a work in progress.
Think of the values and passions that move you deeply, for example, learning and growing, wisdom and authenticity, boldness and decisiveness. Find them and stick to them. Your passions and values will allow you to draw lines in the sand, you will know what you can and cannot do. In moments of crisis and indecision, your values will keep your feet on the ground. They will help you embrace risk, loss, and failures as companions and teachers on life's journey.
No matter what is your major and what is your job, you can mold it to your values and passions, if you know those. Define yourself before the world defines you. Have courage of your convictions.
I will give you a small example. A man who claimed to be faithful is driving on the curvy mountain road. Beautiful day, excitement is in the air, and suddenly the car slides and barrels down the slope. Miraculously, the man is thrown out and is hanging on the branch of a tree, thousands of feet above the chasm. The man screams, God help me. Surprisingly, a majestic voice answers. Son, do you believe in me? The man screams with happiness and relief, Yes, yes indeed. The voice says, Let go of the branch and jump. The man looks up and down indecisively once, twice, ...then asks again, Is there anybody else there?
Have faith. Jump.
Second: Learn to learn – and then continuously learn
You are now proud holders of a diploma. It is just like installing a new computer or driving a new shiny car from the dealer's lot. As you walk down the podium, the value of your diploma will go down by 25 percent.
The shelf life of your knowledge is at best four years. Think of all the classes where professors made you do work on your own, without much guidance, and God forbid they expected you to think. All of those skills that made you independent thinkers will now be required.
Learn to learn and remain current. Otherwise you will be outsourced or automated before long.
I read a hilarious letter in the Erie Times-News about an event that I am not sure was real or metaphorical. A young man declared that he likes Bernie Sanders, the Democratic presidential candidate, because Bernie is a socialist. Asked to define socialism, he said Bernie is socialist since he is active on the social media. By the same token, I will argue that Bernie cannot go to Washington D.C., since it is the capital of the country. Bernie will become a capitalist!
Please continue to learn.
Third: Accept globalization
I use the term globalization as a proxy for change. You will deal with different cultures, different beliefs, different accents, and different people. Add to that the changes due to the ongoing technological blitz and you are looking at a very volatile future. Is this new? I will tell you a story.
I was born in a town in India that is surprisingly similar to Erie in terms of relative population, attitudes of the people, and even politicians. My ancestors were farmers who resisted the British invasion. They fought furiously with British armies for decades, and lost. My grandfather declared 100 or so years ago that the British represented new era, they could not be defeated on the battlefield. He decided this scourge of globalization could only be answered by being educated. He was the first person in my family to become a college graduate, his two sons became a lawyer and a pharmacist, and his daughter became a physician. I stand here today because of his foresight and wisdom.
Choose your reactions wisely. There are careers to be made and empires to be built.
The second story relates to immigration. The current discussions about immigration reminded me of this story, told by my grandfather in a different language and in a different era. About 75 years ago, my small town was invaded by several thousand white men, all speaking German. You guessed it: they were World War II POWs. The British kept them in a fort in the city, but the prisoners were given quite a bit of freedom since they could not go anywhere. My grandfather told me stories of culture clash, language issues, and German criminals. Sound familiar?
Seize the changing conditions. Be innovative and creative, and life will go on. Do not be left behind.
Finally: Remember to network
What we can do together, we cannot do alone. First, call or text your mom and dad. (No, not right now!) Remember, your relationships–family, real and virtual friends, colleagues, and mentors–will be your invisible shield. Build and nurture relationships. Find friends and hold on to them. They will be your true safety net.
In closing, I wish you a life driven by higher purpose and passions and not by the need for power, money, fame, or accolades. I hope you will get it all because you will truly deserve it. May whatever god you believe in be with you, and good luck.