While building a vehicle for this year's Society of Automotive Engineers' International Supermileage Challenge, Penn State Behrend senior Tyler Dorsch came to a startling realization.
"Every year that I've been in the (Society of Automotive Engineers) club, we've done worse than the year before," said Dorsch, a Harmony native and president of Penn State Behrend's SAE Club.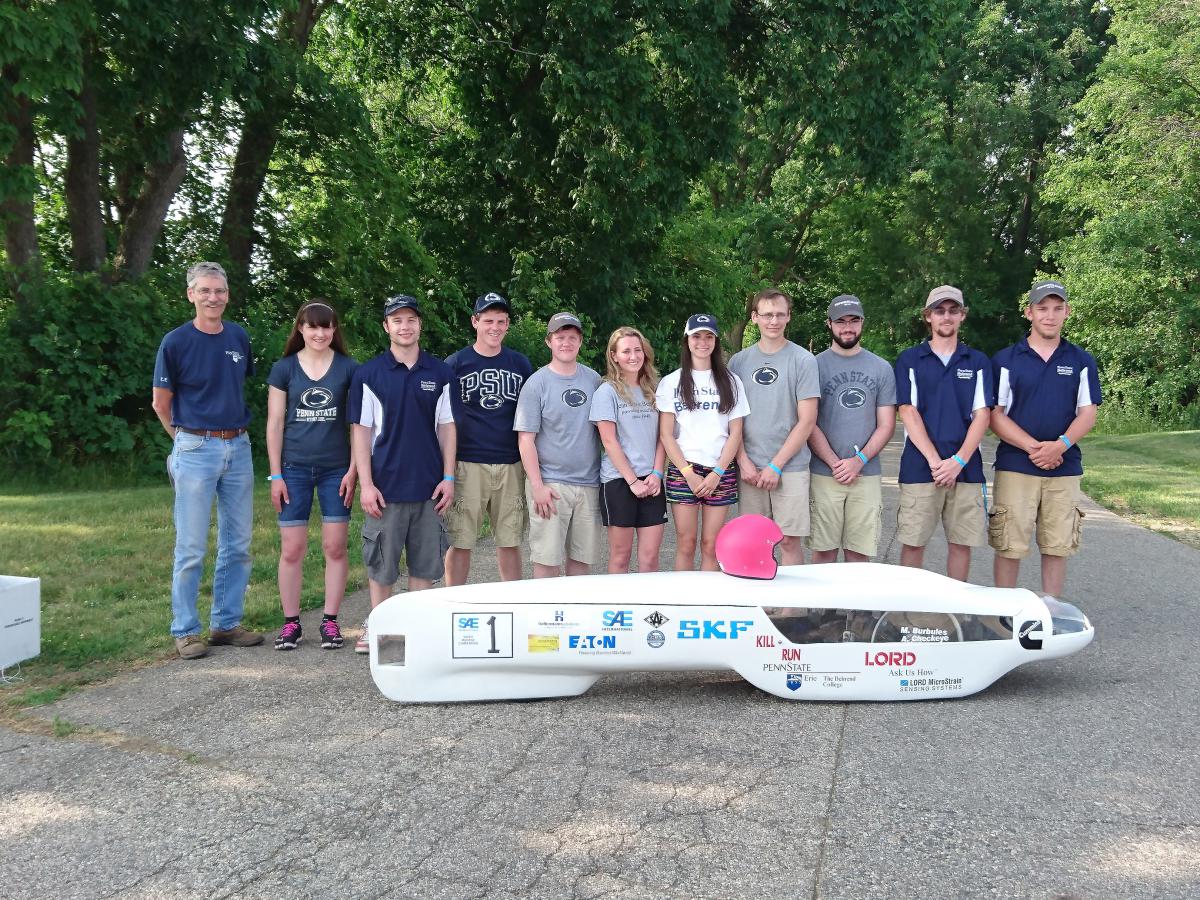 Supermileage is a competition that challenges teams to create cars that squeeze the most mileage out of a single tank of high-octane gasoline. The team has done well in Dorsch's four years at Behrend but had never managed to eclipse its first-place finish from 2013, the year in which the team designed a car that traveled 1,290 miles on a single gallon of gas.
Until last week.
Behrend's SAE Club finished second in this year's competition, held June 9-10 at Eaton Corporation's Marshall Proving Grounds track in Michigan, with the team's vehicle traveling 2,528 miles on one gallon of gas. The team also took first place for endurance with more successful runs completed than all competitors.
"We were hoping to achieve a new milestone for our club, which was around 2,000 miles per gallon," Dorsch said. "You cannot believe how excited we were after we broke that milestone during our first run."
A new engine design helped. SAE this year eliminated the use of the previous engine type that teams had been using and now requires that all teams use a Junior 206 model, designed by Briggs & Stratton.
It's larger, more modern and much more powerful.
"This engine is new to the majority of teams, so in many ways, we're seeing a whole new competition," said Rich Englund, associate professor of engineering and faculty advisor to Behrend's SAE Club. "What we put together I think easily had the possibility to get in the top five, but there is some risk with this engine. Maybe it works, or maybe it blows up."
While teams were required to change their engine for this year's competition, the Penn State Behrend team took it a step further.
"We've been successful in the past, but there's always room for improvement," Dorsch said. "If we're going to continue to do the same things, how will we ever get better? We looked at every piece of the vehicle and thought about how we could improve. Everything from the engine, steering, drive train and entire body shape was adjusted."
In the past, Penn State Behrend vehicles have been shaped like a teardrop. This time around, the team cut out all of the excess space that was not used. Dorsch said the change gave the vehicle better aerodynamics.
The changes were taxing for Dorsch and his teammates, who had worked on the car since the beginning of the fall semester. However, he also believes the changes were the driving force behind the team achieving its ultimate goal: traveling more than 2,000 miles on a single gallon of gas.
"With so many changes, we encountered a lot of things that we hadn't seen before, but that's what happens when you try something new," Dorsch said. "We were really hoping to break 2,000 miles per gallon, and we did. We attribute a lot of our success this year to three major areas: Our new engine, drivetrain and body aerodynamics."