A $50,000 gift from Patricia S. Yahn and her son, Greg Yahn, will improve and expand the annual student art show at Penn State Erie, The Behrend College. The gift will provide new incentives to artists and additional opportunities for students who want to work behind the scenes.
The endowment will allow organizers to recruit jurors for the show, which is presented in Lilley Library each year, and to provide art supplies to winners of the student competition. More than 30 students submitted works this year.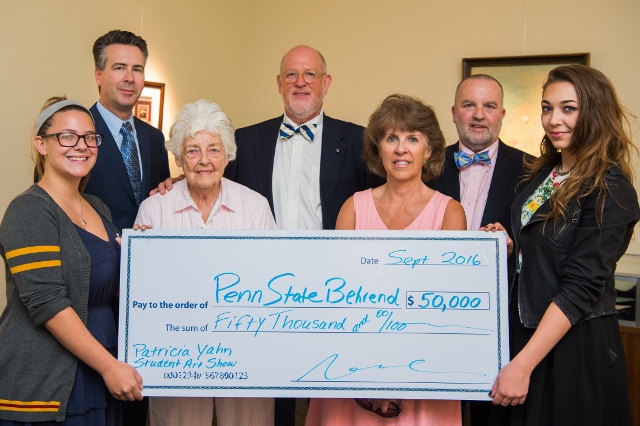 The gift also will provide resources for students in the college's Arts Administration major, who are assuming a larger role in planning, producing and marketing the show. The goal is to have every aspect of the show coordinated by students, who can use that experience in future work for arts organizations.
Student involvement in coordinating the show should bring another, broader benefit, said Heather Cole, a lecturer in digital arts: The art will be more diverse.
"When the same people are always selecting art for a show, their biases can, over time, begin to creep in," said Cole, who curated the last two student shows with Scott Rispin, a lecturer in art. "With students in that role, bringing new perspectives and fresh ideas for how best to use the space, we're going to have wider variety and a broader representation of the art that is being created in our community."
The show will be named the Patricia S. Yahn Student Art Show. The late Walter Yahn, a 1952 graduate of Penn State, first proposed the endowment as a way to honor his wife, a watercolorist who began her art career at the Trask department store in downtown Erie. Her life-sized drawings of models wearing the store's clothes were displayed in the store's windows in the years before mannequins were commonplace. She also created the store's signs and window dressings.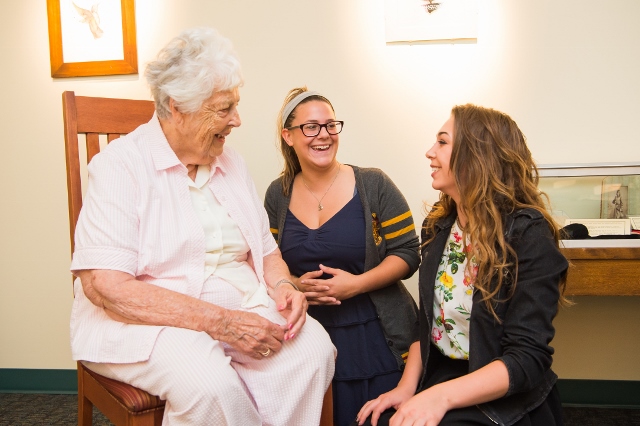 In later years, Patricia Yahn, now 88, focused on interior design, opening a business called Interiors of Erie in 1982. The business provided materials and consultation for residential and commercial properties and projects.
The Yahn family has long supported the college, most visibly with funding for the Yahn Planetarium at Penn State Behrend, which opened in 2014. Son Greg Yahn, president of Advanced Finishing USA, serves on the college's Council of Fellows and the Board of Visitors for the Black School of Business; he has sponsored undergraduate research projects in the schools of Business, Engineering and Science.
The art show endowment, in addition to honoring his mother, reflects an effort to balance the family's philanthropy across the college, said Greg Yahn, who earned a bachelor's degree in Industrial Engineering at Penn State in 1985 and an MBA from Penn State Behrend in 1999.
"Creativity, imagination, vision and insight are immeasurably important to students, including those in technical fields," he said. "Art, music and any other kind of creativity that enables you to think outside the box, in three or even four dimensions, can broaden you as a person and as a professional. That's a big part of what a college is supposed to do."