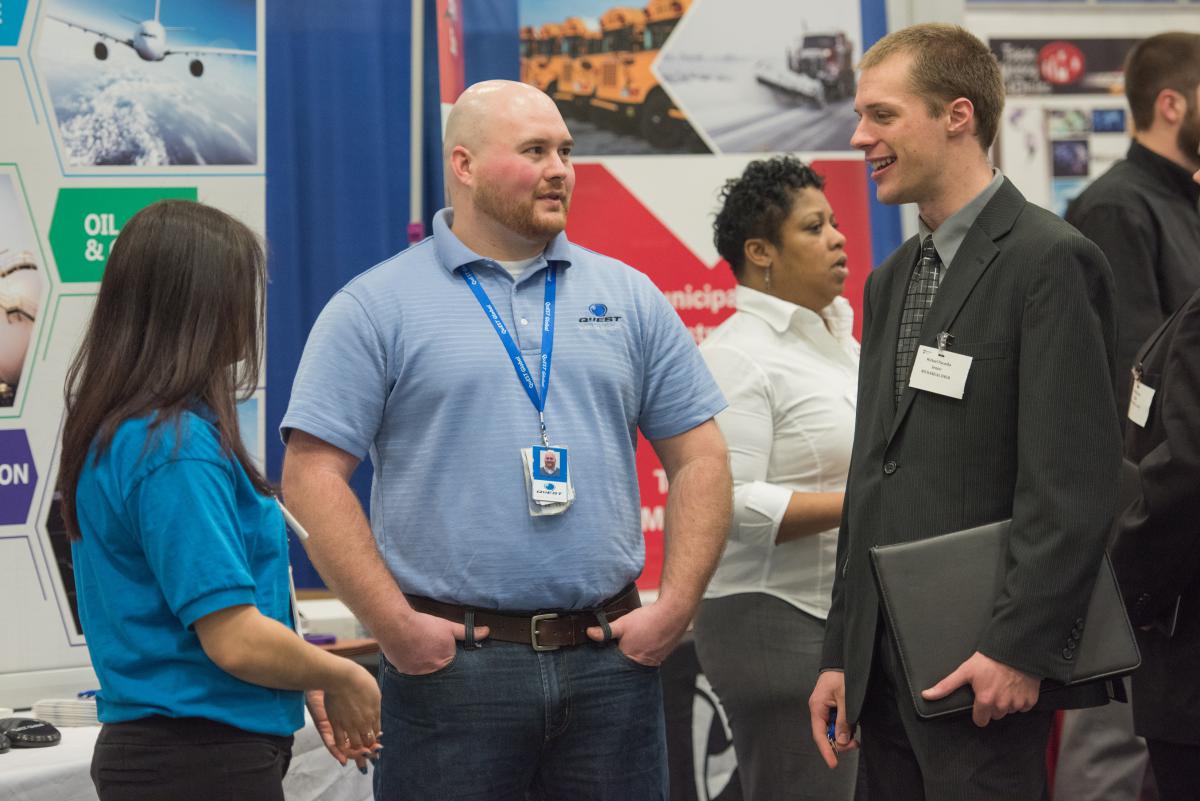 Mackenzie Yoho had one goal going into this year's spring Career and Internship Fair at Penn State Behrend.
"I'm really looking for a summer internship, something in the supply chain field," the junior project and supply chain management major said. "I haven't had an internship yet, so the pressure is on."
Yoho admitted it can be daunting to approach companies with a pitch. However, there was one thing in the back of her mind helping put her at ease.
Scattered among the representatives of the 160 companies in attendance were a number of young Penn State Behrend graduates, individuals who were in the exact same position as the student attendees no more than a few years ago.
"It makes me less nervous," Yoho said. "It also makes it easier on students because you already have that conversation starter and some talking points."
Lola Soniregun, a senior interdisciplinary business with engineering studies major, was another of the 850-plus students who attended the fair, which was organized by the Academic and Career Planning Center and held March 16 in the college's Junker Center. Soniregun hoped to line up job interviews at the fair.
Like Yoho, she said she felt more comfortable because of the alumni presence.
"You recognize some of the faces, so it's nice to see someone who you might have taken a class with," she said. "When you know the person, you also know that they'll be honest with you about the company, and it doesn't feel like you're getting a rehearsed speech."
Of course, alumni would not be represented at the fair if companies did not already have a good track record recruiting Behrend graduates. Take Dan Simon, for example.
He graduated from Penn State Behrend in 2015 with degrees in management information systems and project and supply chain management and represented Highmark at this year's fair.
"There's really a great talent pool here at Behrend," said Simon, an associate IT analyst at the insurance company. "We have a wide range of positions we're recruiting for, and we hope to find some outgoing and engaging students today."
Patrick McDonough, a manufacturing development engineer with TE Connectivity and a Behrend plastics engineering technology graduate, was representing TE for the fourth time at the Career and Internship Fair. There's a reason for that.
"Our company has really had some great experiences with Behrend graduates," McDonough said. "We continue to come back and hire great talent, and that's a testament to Behrend."