Scores for Jan. 23 to Jan. 29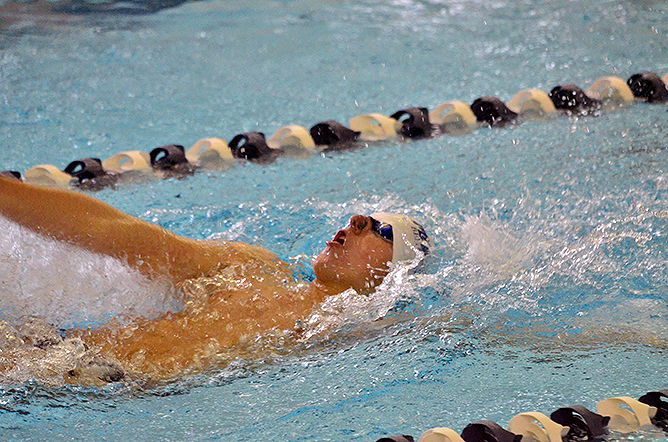 The Penn State Behrend men's swimming and diving team has been undefeated at home this season. Six student-athletes were individual winners against Pitt-Bradford on Jan. 27.
The college's basketball, volleyball and track and field teams also were in action last week. Here are the highlights.
Men's basketball
Penn State Behrend 92, D'Youville 77
Penn State Behrend 89, Mt. Aloysius 57
Five Lions had double-digit scoring against Mt. Aloysius, including Justin Gorney, a sophomore from South Park, who had a career-high 21 points.
Women's basketball
Penn State Behrend 71, D'Youville 52
Mt. Aloysius 70, Penn State Behrend 64
Sadie Zielinski, a senior from Erie, scored a career-high 23 points in the win over D'Youville, including five three-pointers.
Men's swimming and diving
Penn State Behrend 121, Pitt-Bradford 83
St. Vincent 178.5, Penn State Behrend 98.5
Quinn Fischer, a freshman from Fairview, won the 100- and 500-meter freestyle races against Pitt-Bradford, finishing in 50.72 and 5:17.81.
Women's swimming and diving
Penn State Behrend 100, Pitt-Bradford 45
St. Vincent 160, Penn State Behrend 78
The Lions swept the 200-meter and 50-meter freestyle events, taking the top three spots in each race. Jessica Wyckoff, a sophomore from Elma, N.Y., won the 200; Claire Mallick, a sophomore from Pittsburgh, won the 50.
Men's track and field
Matthew Grafton, a senior from Worthington, won the 60-meter hurdles at the Brockport Invitational, finishing in 8.62 seconds. Two other Lions – Marcus Haesler, a junior from North East, and Max Livingood, a sophomore from Washington – finished in the top 10.
Women's track and field
Paige Allen, a senior from Butler, won the 400-meter dash at the Brockport Invitational, finishing in 59.97 seconds. She qualified for the Eastern College Athletic Conference Championships.
Men's volleyball
Penn State Altoona 3, Penn State Behrend 2
Scores, results and updates for Penn State Behrend athletics are posted at psblions.com.
Contact
Robb Frederick
Assistant director, news and information, Penn State Behrend
Jill Yamma
Sports information director, Penn State Erie, The Behrend College