Service project will aid city's water crisis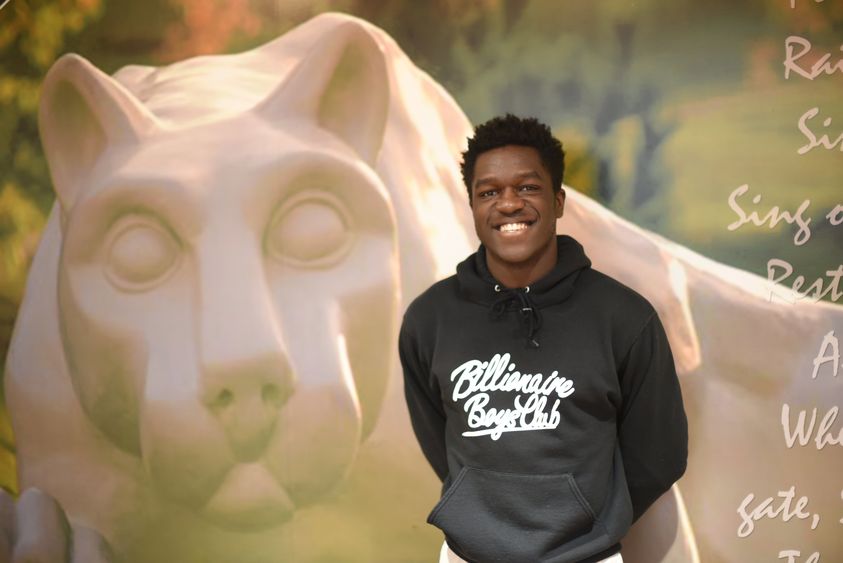 It isn't often that a student receives a standing ovation for missing class, but that's what met Penn State Behrend student Seun Babalola when he walked into his public speaking course on March 20.
"I walked in and everyone was applauding, even (associate professor of communication) Dr. Troester. That was pretty cool," said Babalola, who had missed the class only days earlier.
Babalola, a sophomore political science major, had a good reason for his absence. For four straight days the previous week, the Long Island, New York native had sat at a table inside the Reed Union Building, soliciting bottled water donations to help Flint, Michigan, with its years-long water crisis. Babalola collected more than 3,000 bottles and raised $308, which he will deliver next week to Mission of Hope, a church and food bank in the Flint area.
The plan for the fundraiser had been in motion for some time.
Last summer, while interning for Hillary Clinton during her presidential campaign, Babalola attended a meeting with former President Bill Clinton and several African-American mayors from cities across the country.
During the meeting, Flint Mayor Karen Weaver detailed the city's water crisis. That did not sit well with Babalola.
"I had been thinking about it all summer, and I wanted to help," he recalled. "I knew that the details of this fundraiser would be difficult to do, but it was something I really wanted. My thing is that when I'm able to drink tap water freely, and I know that people in Flint and Detroit aren't able to, it doesn't resonate well with me."
Babalola's interest in making the fundraiser a reality led him to join the Student Government Association this fall, and the wheels were set in motion. He said SGA expected the fundraiser to go well, but no one could have predicted that literally thousands of bottles would be donated.
"It was an amazing response from everyone," said Babalola, who is also the director of SGA's Diversity Committee.
Babalola said his desire to serve others comes from his parents, who are both attorneys.
"I've always lived off of the idea that nothing is too big of a task to do," he said. "When I'm in a capacity to help, I want to make a difference."
Babalola continues to make a difference at Penn State Behrend in other ways as well. He helped found the Men of Excellence program, which helps prepare African-American male students for leadership positions.
He also will be the closing speaker at the April 8 TEDxPSUBehrend event, with his talk focusing on building better relations between police and communities of color.
Contact
Steve Orbanek
Marketing Communications Coordinator, Penn State Erie, The Behrend College