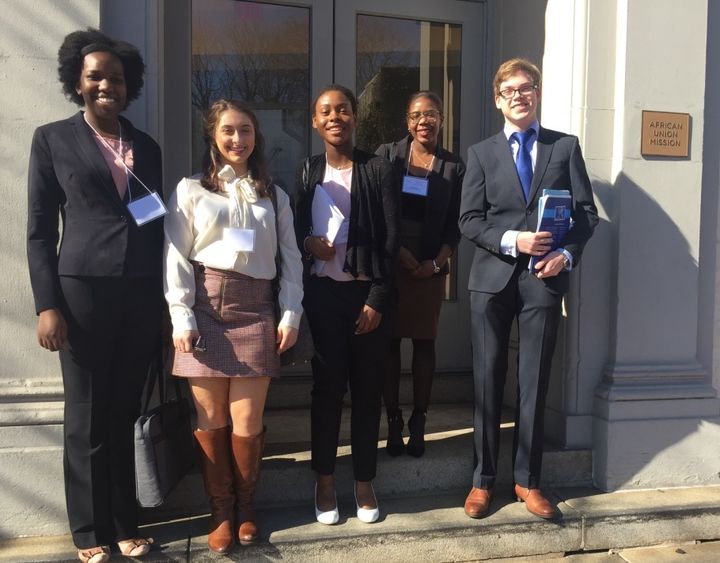 ERIE, Pa. — After attending Howard University's annual National Model African Union Summit last year, Penn State Behrend student Dalia Tenda Batuuka came away with a new perspective.
"I have such a newfound appreciation for politicians. You always hear -- 'What's wrong with Congress? Why aren't they passing this?' -- but you realize that it's not that easy," the sophomore political science major said following last year's summit.
With that in mind, the Houston native relied on a new tactic this year at the 15th edition of the summit: the power of persuasion.
"Comparing this year to last year, where I was almost afraid to talk, I was so much more engaged, especially within the delegation," said Batuuka, who served as a delegate for the Republic of Botswana at this year's summit. "I used persuasion, and my thing was to kind of use guilt. I would bring real-life situations into it to try to guilt the other countries into passing my resolutions."
Batuuka was joined by classmates Constantijn van der Wegen, Isis Duncan, Ava Bosco and Chantel Drake in representing Botswana at this year's summit. Sponsored by the African Union Mission and Member State Embassies in Washington, D.C., the four-day summit is a simulation of the proceedings of the African Union. Participants are required to research their assigned countries in-depth before attending the conference.
Students from more than 45 colleges and universities participated. Batuuka was the only Penn State Behrend delegate to have previously participated in the National Model African Union Summit. The team still performed well, even winning outstanding committee delegation and committee leadership awards for their performance within the Peace and Security Council committee.
Each student was assigned a different committee for the summit: Peace and Security (Duncan), Executive Council (Drake), Social Matters (Batuuka), Economic Matters (van der Wegen) and Democracy, Governance, and Human Rights (Bosco). Preparing for the summit was no small task.
"There was a lot of studying. I had a whole binder full of information because you really need to have the whole context of your country and Africa as a whole," said Duncan, a first-year biochemistry major from Pittsburgh.
The students decided to participate in the summit after completing the Introduction to Contemporary Africa course taught by Naaborle Sackeyfio, a lecturer in comparative politics who also attended the summit.
The program piqued van der Wegen's interest because the biology major was looking for an experience outside of his primary area of study. However, he quickly realized that passing resolutions was easier said than done.
"That's the fun of it, but also the frustration of it," the Netherlands native said. "It's a double-edged sword. You can think you have more support than you really have, or at times, you can spend way too much time trying to convince someone to support your initiative."
The key is finding a way to meet delegates in the middle.
"It really is a challenge because you have so many personalities and perspectives, so what's important to Botswana may not be important to other countries," Duncan said. "As you're pushing your own agenda, you also network and listen to other countries' problems. You just have to connect and find a happy medium."
Aside from the National Model African Union Summit, the Behrend students also got to spend time in the nation's capital, visiting several historical monuments and buildings. However, the students' top highlight from the summit was the same.
"Meeting all of the different people was definitely the best part," said Drake, a junior political science major from Glendale, Wisconsin. "We met so many hard-working, passionate people."
Bosco agreed.
"All of us just really bonded afterwards," said Bosco, a first-year history and political science major from Pittsburgh. "The highlight of this experience was definitely the people. I can't wait to do this again next year."
Contact
Steve Orbanek
Marketing Communications Coordinator, Penn State Erie, The Behrend College