Taylor Morris caps undergraduate career by winning two major awards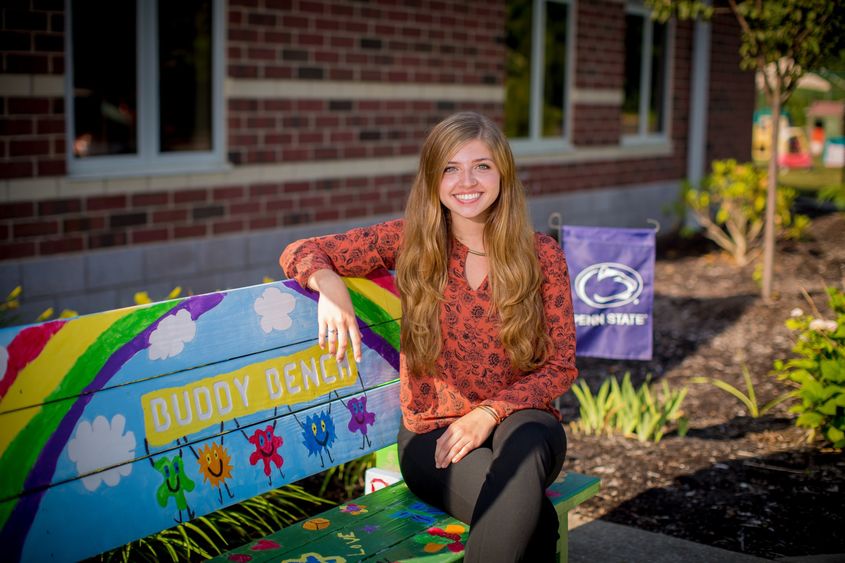 ERIE, Pa. -- Taylor Morris had no intention of majoring in psychology. But after an introductory course during her first semester at Penn State Erie, The Behrend College, the Bradford, Pennsylvania, native had a change of heart.
"I started doing research my first semester, and that was it. Dr. (Melanie) Hetzel-Riggin (associate professor of psychology) takes an empowerment approach, and I was drawn to that," Morris said. "As soon as I was in it, I was like, 'OK, this is what I have to do.'"
In hindsight, Morris said, her interest in psychology should not come as a surprise. Her mother had also studied psychology in college, so Morris had been exposed to it at an early age.
She was hesitant though, unsure about whether the field was right for her. She couldn't have known, however, how quickly she would take to research. Annually, Penn State Behrend funds nearly $350,000 in undergraduate research opportunities for students.
"Research has been the main motivator and driving force for my time here (at Behrend)," Morris said.
Morris' accomplishments were recognized this past spring at the Excellence in Student Leadership and Service Awards when she earned two of Behrend's most prestigious awards: the Ralph Dorn Hetzel Memorial Award and the Eric A. and Josephine S. Walker Award. Named after Penn State's tenth president, the Hetzel Award recognizes high scholastic achievement, good citizenship, and participation and leadership in student activities, while the Walker Award recognizes a student whose qualities of character, scholarship, leadership and citizenship have been directed into student programs and services.
"I didn't expect it at all, but it was an incredible honor," said Morris, who graduated with a degree in psychology this past May. "It all kind of clicked and came together and worked out for me. I tried to take advantage of the opportunities available to me."
One of the research projects that Morris completed was related to bystander intervention and sexual assault prevention on college campuses.
"I'm really proud of the bystander intervention work I did here," said Morris, who presented the research at the Midwestern Psychological Association Conference. "We looked at how other people may see warning signs and risks, and how you might get them to act. We found that those with higher bystander self-efficacy and those who recognized the risk earlier in the scenario were more likely to leave the scene before the sexual assault took place and before they had the opportunity to intervene."
Morris also enjoyed her work with the Susan Hirt Hagen Center for Community Outreach, Research and Evaluation (CORE), an outreach center of the college. It was there that she worked with Charisse Nixon, professor of psychology and research director of CORE, on the Mentor Project, a program that promotes positive youth development by pairing up youth with trained college students and community members.
Research will continue to be a significant part of Morris' life this fall when she heads to University of California, Los Angeles (UCLA) to pursue a master's degree in social work and a doctorate in social welfare.
That doesn't mean she won't miss her time here at Behrend, though.
"It's just such a tight-knit community here," Morris said. "You can go into the psychology lab at 8 p.m. on a Sunday or 6 a.m. on a Tuesday, and someone is going to be there. I have made a lot of great friends here. I'm going to miss that."
Contact
Steve Orbanek
Marketing Communications Coordinator, Penn State Erie, The Behrend College