Elementary students compete at 13th annual Penn State Behrend event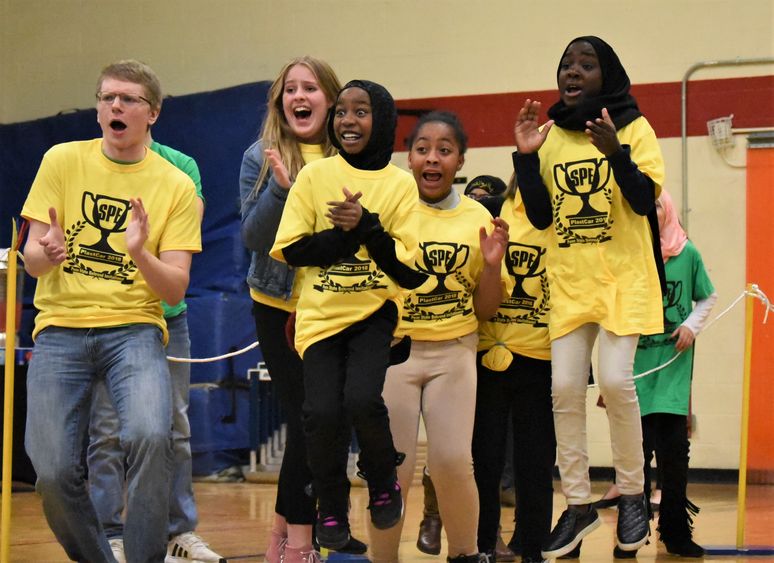 The pink, yellow and blue colors atop the Matchbox-sized vehicle brought the flash factor. The glittery horn did its part to make it look intimidating. Plus, what could be better than a name like "UNICORN ICE CREAM TRUCK?"
Now it was time to for Samira Babiker, Laila Abdirahman, Inihya Vaughn and Julie Lauris to test their vehicle in a race.
The four Diehl Elementary School students jumped and screamed as they watched the vehicle they spent months designing zoom down a 30-meter-long sloped track during the 13th annual PLASTCar competition. Held Dec. 11 at Penn State Behrend, the competition is the culmination of a semester-long project between Rolling Ridge and Diehl elementary school fifth- and sixth-graders and students from Behrend's Plastics Engineering Technology and Psychology programs.
"It's very exciting to see the car race, but it also got me really nervous because you don't know who's going to win," Babiker said.
For the project, the elementary school students partnered with a student in the PLET 468: Rapid Commercialization course. The sixth graders provide potential designs to the Behrend student, who then creates 3D models using Computer Aided Design (CAD) software. The cars are designed to closely replicate the students' sketches while meeting specifications for size, weight and being able to fit with existing chassis and wheel sets.
This year, the team of Babiker, Abdirahman, Vaughn and Lauris worked with Behrend student Matt Krause, a senior plastics engineering technology major, on the exterior of the vehicle.
"The theme was 'pet,' which led them to the idea of an ice cream unicorn. I think, technically, a unicorn can be a pet," Krause said. "Each student sent me designs, and from there, I used Creo Parametric (3D CAD software) to make a design. My goal was to make sure the tires were unobstructed, and also that the weight was lower to the vehicle's frame."
The elementary students also meet with Behrend psychology students in the PSYCH 444: Engineering Psychology course where they learn about man-machine relationships. Together, the Behrend students work with the sixth graders to develop concepts for the interiors of the cars.
After the designs were finalized, the vehicles were produced and 3D printed at Accudyn Products, Inc. in Meadville, which sponsored this year's competition.
The competition tests all cars to see which one is fastest, but for many student attendees, PLASTCar is about more than wins and losses.
"It was hard for us to create these drawings because there are so many details, but it was fun, too," Lauris said. "It did teach us a lot about teamwork though, and it's fun to come here and cheer today."
Contact
Steve Orbanek
Marketing Communications Coordinator, Penn State Erie, The Behrend College