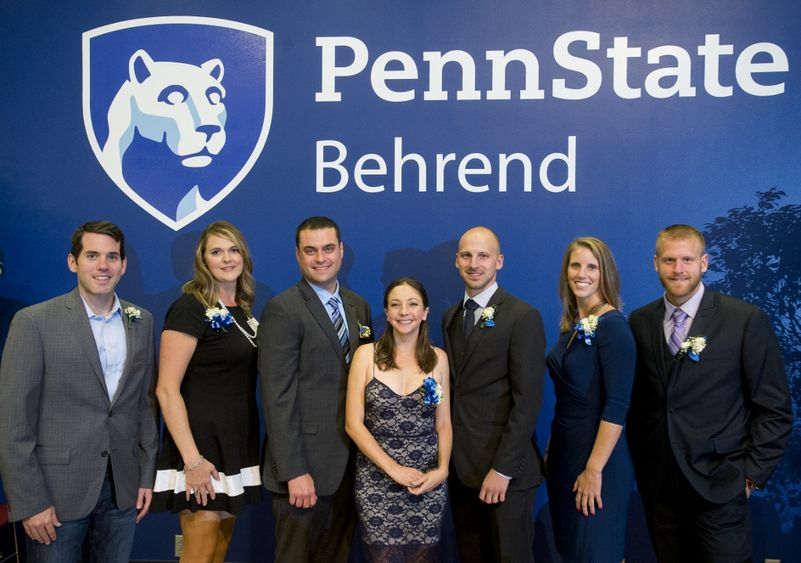 ERIE, Pa. — Seven former student-athletes have earned places in the Athletics Hall of Fame at Penn State Erie, The Behrend College. They were recently honored at a dinner in McGarvey Commons.
The college's 1992-93 softball team also was honored during the program.
The individual honorees included:
Jon Harding, a two-sport athlete who graduated in 2001. Harding was a member of the inaugural men's water polo team. He scored 42 goals in two years with the program. He was even better as a member of the college's swimming and diving team, graduating with the top times in the 100 and 200 butterfly, the 200 and 400 medley relays and the 400 free relay.
Tara Braden, a 2004 graduate, was a member of the college's first women's water polo team. She also was a dominant member of the women's swimming and diving team, holding the top 10 times in both the 100 and 200 breaststroke events. She also held records in the 200 and 400 medley relays and the 400 and 800 freestyle relays.
Chris McCartney, a 2006 graduate, was a two-time Pitcher of the Year for the Penn State Behrend baseball team. His record 10 wins in a single season topped the AMCC all-time lists until 2014. McCartney helped the Lions win the AMCC and ECAC championships in 2003. As a senior, he built a 10-3 season.
Emily Rogan, a 2008 graduate, anchored the defense of the Penn State Behrend women's soccer team. In 84 games, she helped the team post 44 shut-outs. In her junior and senior seasons, the team won the AMCC title and advanced to the NCAA tournament; in both years, Rogan earned All-Conference honors.
Brittany Mayes, a 2007 graduate, led the women's basketball team to the AMCC title and the NCAA tournament in her freshman season. She was named team MVP in two consecutive years and finished her career third in points (1,153), sixth in rebounds (628) and 12th in games played (105).
Dan Mitchell, a 2007 graduate, was a three-time NCAA qualifier and the first Penn State Behrend track-and-field athlete to compete at nationals in javelin. A four-time ECAC qualifier, he earned team MVP and All-Conference honors as a junior. The following year, he won the Behrend Sportsmanship Award and Athlete of the Year honors.
Brad Ruffo, a 2007 graduate, was the first Penn State Behrend runner to qualify for nationals in cross country. The four-time All-Conference selection and three-time team MVP then transitioned to track-and-field, where he set 12 school records.
Contact
Robb Frederick
Assistant director, news and information, Penn State Behrend
Jill Yamma
Sports information director, Penn State Erie, The Behrend College