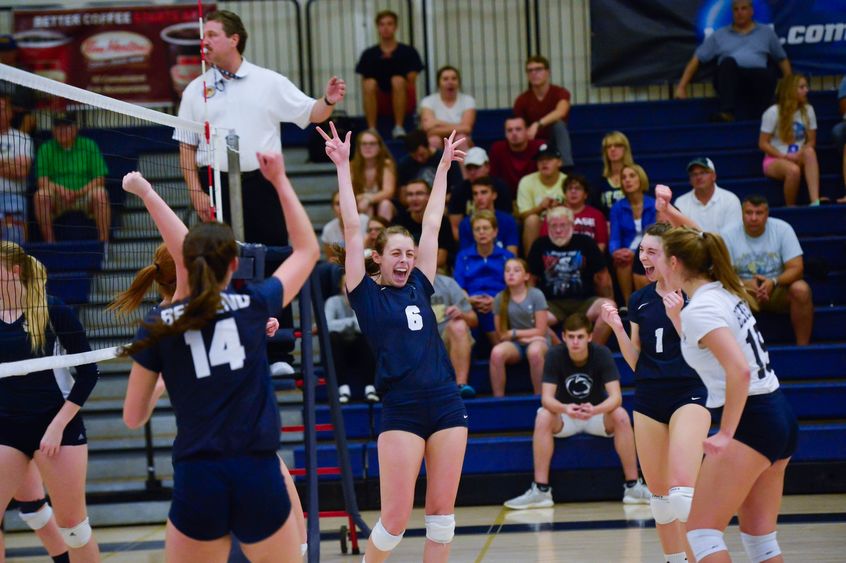 ERIE, Pa. — The women's volleyball and women's soccer teams at Penn State Erie, The Behrend College, won Allegheny Mountain Collegiate Conference titles on Nov. 4 and 5. The volleyball team won 15 of its final 16 matches leading up to the title game against La Roche; the Lions won again there, taking the title in five sets: 25-19, 23-25, 17-25, 25-17 and 15-7. The soccer team defeated Franciscan, winning its seventh-consecutive AMCC championship.
The college's swimming and diving and wrestling teams also were in action last week. Here are the highlights:
Women's volleyball
Penn State Behrend 3, La Roche 2
Penn State Behrend 3, Pitt-Bradford 0
Penn State Behrend 3, Mt. Aloysius 0
Rachel Frye, a senior from Leechburg, had 10 kills on 20 attempts against Pitt-Bradford. She had nine kills against Mt. Aloysius.
Women's soccer
Penn State Behrend 3, Franciscan 2
Penn State Behrend 0, D'Youville 0 (Behrend wins, 4-3, on penalty kicks)
Olivia Belack, a senior from Upper St. Clair, scored in the 88th minute to lead the Lions past Franciscan in the AMCC title game, giving the team its seventh-consecutive conference title. The Lions face Ohio Northern in the first round of the NCAA Division III tournament.
Men's soccer
Penn State Behrend 1, Medaille 1 (Medaille wins, 5-4, on penalty kicks)
Penn State Behrend 4, Franciscan 1
The Lions forced two overtimes against Medaille before falling on penalty kicks, 5-4, in the AMCC title game. The team advances to the Eastern College Athletic Conference tournament, which begins Nov. 11.
Men's swimming and diving
Penn State Behrend 155, Chatham 46
Michael Bauer, a freshman from Northampton, won the 100 and 200 breaststroke races and was part of the 200 medley relay team, which also won. Matt Kuchcinski, a freshman from North East, won the 1-meter and 3-meter diving events.
Women's swimming and diving
Chatham 142, Penn State Behrend 110
Abigail Witmer, a sophomore from Herndon, Virginia, won the 200 backstroke, finishing in 2:22.13. She finished second in three other events.
Men's wrestling
Three Penn State Behrend wrestlers — Jake Paulson, Brandon Miller and Zachary Ishman — won matches at the Clarion Open. The competition, which included Division I and II teams, was Behrend's first varsity wrestling event since 1978.
Scores, results and updates for Penn State Behrend athletics are posted at psblions.com.
Contact
Robb Frederick
Assistant director, news and information, Penn State Behrend
Jill Yamma
Sports information director, Penn State Erie, The Behrend College