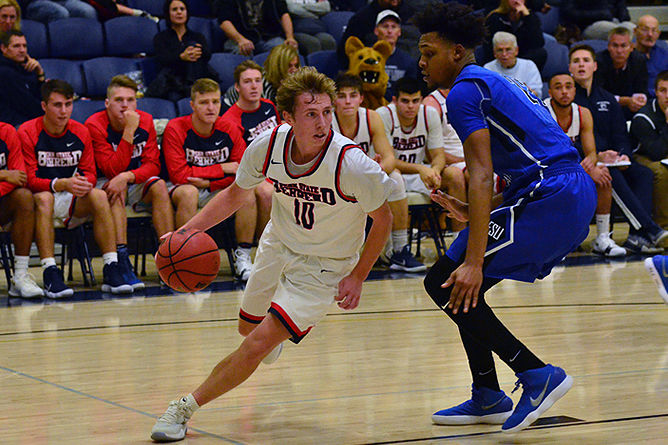 ERIE, Pa. — The Penn State Behrend men's basketball team beat Fredonia State to open the 2017-18 season. The Lions shot 54.8 percent from the field in the second half.
The college's bowling, water polo and wrestling teams also competed last week. Here are the highlights:
Men's basketball
Penn State Behrend 75, Thiel 46
Any Niland, a junior from Fairview, scored a career-high 28 points, including six three-pointers. He also had five rebounds, five steals and four assists.
Women's basketball
Fredonia 65, Penn State Behrend 57
Allegheny 84, Penn State Behrend 47
Erika Woll, a senior from Erie, had 15 points, six rebounds and five steals against Allegheny.
Women's cross country
Savanna Carr, a freshman from Franklin, ran in the NCAA Division III Cross Country Championships in Elsah, Ill. She finished the 6K race in 22:18.9, placing 113th.
Men's wrestling
John Carroll 32, Penn State Behrend 15
Otterbein 45, Penn State Behrend 9
Penn State Behrend 27, Lourdes 20
Lycoming 44, Penn State Behrend 7
Thiel 23, Penn State Behrend 21
Jake Paulson, a freshman from Erie, was undefeated at the John Carroll Duals, where he wrestled in the 184- and 197-pound weight classes. He scored back-to-back pins in the matches against Otterbein and John Carroll.
Men's water polo
California 27, Penn State Behrend 3
Southern California 17, Penn State Behrend 2
Stanford 15, Penn State Behrend 0
Women's bowling
St. Vincent 3, Penn State Behrend 0
Hali Hartley, a freshman from Seven Fields, rolled three consecutive strikes to open the second game. She went on to score a 173.
Scores, results and udpates for Penn State Behrend athletics are posted at psblions.com.