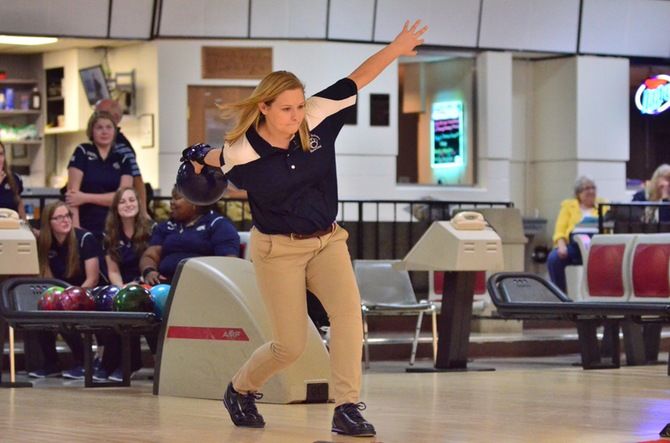 ERIE, Pa. — The Penn State Behrend women's bowling team pressured Hilbert in four close games, including a 649-640 nail-biter. The team faces Medialle on Jan. 16.
The college's basketball and wrestling teams also were in action last week. Here are the highlights:
Men's basketball
Penn State Behrend 61, Mt. Aloysius 52
Penn State Behrend 81, Carnegie Mellon 75
Justin Gorny, a junior from South Park, scored a game-high 19 points against Carnegie Mellon. Connor McLaughlin, a senior from Ashtabula, Ohio, scored a season-high 17 points against Mt. Aloysius.
Women's basketball
Mt. Aloysius 85, Penn State Behrend 71
Penn State Behrend 58, Westminster 53
Grove City 79, Penn State Behrend 65
Ally Dillman, a sophomore from Erie, scored a season-high 20 points in the loss to Mt. Aloysius. Dillman, Kourtney Beamesderfer, Autumn Byes and Erika Woll all had double-digit scores against Grove City.
Men's wrestling
Waynesburg 41, Penn State Behrend 9
Baldwin Wallace 45, Penn State Behrend 3
Apprentice 30, Penn State Behrend 21
Jake Paulson, a freshman from Erie, had three wins, including one pin, at the dual matches in Waynesburg. He wrestles in the 184-pound weight class.
Women's bowling
Hilbert 4, Penn State Behrend 0
Hali Hartley, a freshman from Seven Fields, had scores of 135, 176 and 179 against Hilbert. She was named the Allegheny Mountain Collegiate Conference athlete of the week.
Scores, results and updates for Penn State Behrend athletics are posted at psblions.com.
Contact
Robb Frederick
Assistant director, news and information, Penn State Behrend
Jill Yamma
Sports information director, Penn State Erie, The Behrend College