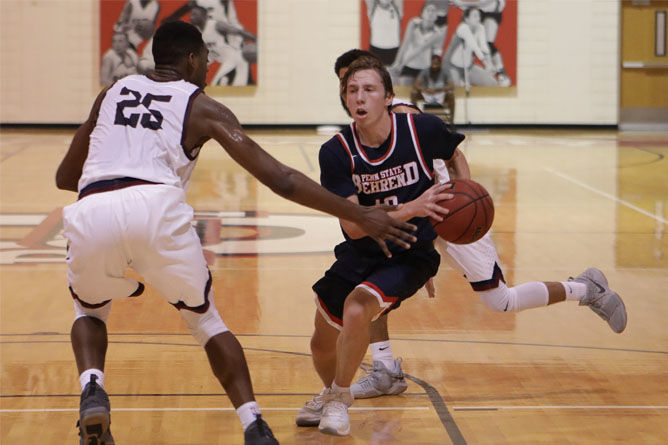 ERIE, Pa. — The men's basketball team at Penn State Erie, The Behrend College, is undefeated in Allegheny Mountain Collegiate Conference play. The team's defense has held opponents to just 57.6 points per game — the lowest in NCAA Division III.
In addition to men's basketball, the college's women's basketball and wrestling teams also were in action last week. Here are the highlights:
Men's basketball
Penn State Behrend 74, Mt. Aloysius 49
Penn State Behrend 77, Medaille 76
Penn State Behrend 71, Eastern 56
Eastern Connecticut State 63, Penn State Behrend 60
Penn State Behrend 79, Pitt-Greensburg 53
Dan Wanker, a junior from Pittsburgh, scored a three-pointer with five seconds left in the game to defeat Medaille, 77-76. Andy Niland, a junior from Fairview, led the team with 18 points, eight assists and two steals.
Women's basketball
Penn State Behrend 84, Pitt-Bradford 75
Medaille 77, Penn State Behrend 66
St. Mary's 73, Penn State Behrend 60
Penn State Behrend 66, Pitt-Greensburg 39
Erika Woll, a senior from Erie, scored a career-high 32 points against Pitt-Bradford. She also had seven steals, six rebounds and five assists.
Wrestling
Fourteenth (of 16 teams) at the Waynesburg Invitational
Jacob Paulson, a freshman from Erie, won three matches in the 184-pound weight class. Donnie Kerr, a senior from Ellwood City, won two matches in the 157-pound class.
Scores, results and updates for Penn State Behrend athletics are posted at psblions.com.
Contact
Robb Frederick
Assistant director, news and information, Penn State Behrend
Jill Yamma
Sports information director, Penn State Erie, The Behrend College