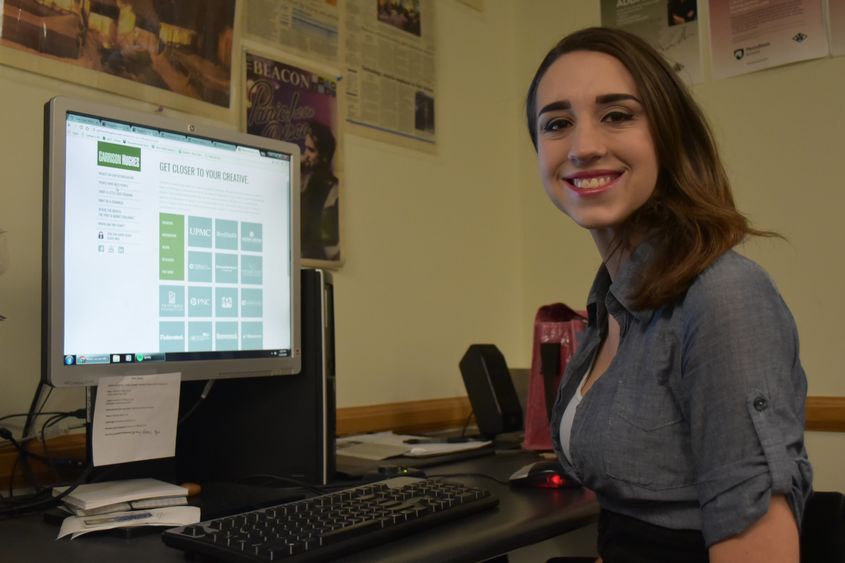 Just seconds before submitting their proposal during Pitch, a two-part advertising competition sponsored by the Pittsburgh Advertising Federation, Jacqueline DuMont and her teammates came to a startling realization.
"We targeted the wrong audience," said DuMont, a senior communication major at Penn State Erie, The Behrend College. "They specifically said that they wanted the proposal's target audience to be adults, but we targeted teens. Right then, we really thought we had no chance."
We all make mistakes. The Cranberry Township native just never expected this would turn out to be one of the best mistakes she ever made.
The Pitch is a two-part competition where participants from different universities work with an advertising agency to deliver a real-world proposal to a Pittsburgh-based nonprofit organization. As a member of the winning team, DuMont will now receive public recognition at the Pittsburgh ADDY Awards in March, and her résumé will be distributed to the Pittsburgh Advertising Federation's Board of Directors.
DuMont's team, which included students from Duquesne University, Point Park University and the University of Pittsburgh, was partnered with the Garrison Hughes advertising agency. Their task was to develop a marketing communications and advertising proposal for Outreach Teen and Family Services Inc,, a community-based counseling agency located in the South Hills area of Pittsburgh.
At the day-long first phase of Pitch, held in late October, DuMont's team was one of six competing to impress Outreach and the sponsoring advertising agencies. The stakes were high as two finalist teams would advance to a second phase where they would make an actual "pitch" to Outreach's board members and staff.
When reviewing the documents provided by Outreach, DuMont and her teammates overlooked that they wanted the proposal to target adults. It's a good thing they did.
"We essentially ended up creating our own target audience, which was teens," DuMont said. "So we focused on Outreach exploring social media and hosting more events on college campuses. We also emphasized how at 14, a young person is permitted to seek help without parents."
The proposal resonated with Outreach and the other judges. DuMont's team advanced to the finals, held in late November, where they took first place.
"We were so different, and that's what we brought to the table," DuMont said.
Overall, DuMont said the experience was a great one as it exposed her to the professional world of advertising, which she hopes to pursue as a career when she graduates in May.
"It was so rewarding and shocking because our spirits were so low after the first phase," she said. "I got to see how a real agency operates and also meet a lot of advertising professionals. It gets me excited because I really think this career pathway will be suitable for my creativity."
Contact
Steve Orbanek
Marketing Communications Coordinator, Penn State Erie, The Behrend College