First-year Penn State Behrend student plans inclusive holiday event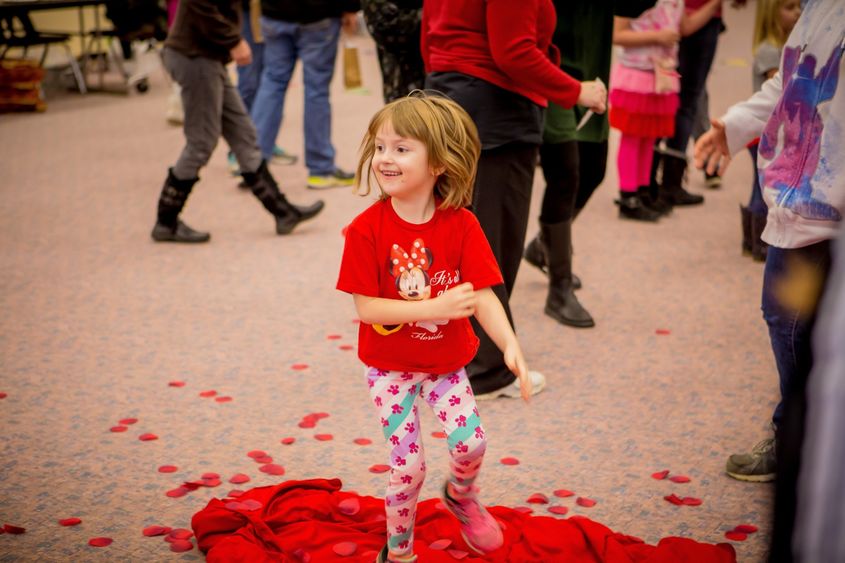 The cafeteria of North East School District's Earle C. Davis Primary school was a busy place on Saturday, Feb. 10.
In one corner, guests were getting their faces painted. Across the room, young people were eagerly building Valentine's Day butterflies out of construction paper and toilet paper rolls.
Morgan Yelverton, a first-year student at Penn State Erie, The Behrend College, moved throughout the cafeteria, helping to set up and monitor activities. She could not help but smile.
This was the first Valentine's Day Extravaganza she had planned outside of her hometown of Goldsboro, North Carolina, and it was everything she had hoped it would be.
"I have been planning this since August. I knew I was going to do it once I came to Behrend," Yelverton said. "I just love seeing people come in, have fun and have a chance to be themselves."
With the help of Karen Rizzo, assistant professor of special education at Penn State Behrend, and classmates, Yelverton planned the Valentine's Day Extravaganza as part of a project for her RHS 100: Culture of Disability course for Penn State Behrend's minor in special education. This was a free inclusive community event geared toward young people and their families. Activities fostered awareness of the culture of disability while strengthening acceptance and celebration of individual differences. More than 100 young people from around the Erie region attended the event.
It was not her first time planning such an event, having organized three others as a high school student.
"My first childhood best friend had a disability, and that really impacted me as I grew up alongside her," Yelverton said. "It made me realize how important it is that every child in elementary school understands that we are all here to learn and has the same opportunities as their peers."
The carnival-type event featured games designed for inclusion. In one activity, participants fished for construction paper fish. In another, Heart Target, they threw bean bags at targets scattered on the ground.
"Our main objective was for everyone to be able to participate. From the inviting flyer to the universally-designed activities, we hoped to maximize both access and interest of all who attended the event," Yelverton said.
"Activities like the Valentine's Day Extravaganza are important for youth with and without disabilities for creating a culture that positively recognizes our unique characteristics and contributions," added Rizzo.
Pulling off an event like the Valentine's Day Extravaganza does not happen overnight. Yelverton was fortunate to have great support from the North East School District, the North East Chamber of Commerce and the North East Parks and Recreation Commission, which all heavily promoted the event. Sponsors also donated food and materials, and more than 25 Penn State Behrend students volunteered their time to help run the events. Many more students from various clubs and organizations assisted with the creation of activities and materials.
"Not only was it wonderful to see families bring their children to this event, but it was equally amazing to see young adult men and women give their time and resources to support our children and provide such an experience," said Rebecca Kelley, special education supervisor for the North East School District.
Yelverton is currently enrolled in the pre-optometry program at Penn State Behrend, but she is minoring in special education.
"I've always wanted to be an optometrist, and I am very passionate in developing my skills to support the needs of individuals with disabilities," said Yelverton.
She said she plans to hold future Valentine's Day Extravaganzas and hopes that the event will continue long after she's a student at Penn State Behrend
At the very least, she looks forward to it being a tradition and highlight of her time at the college.
"Doing this every Valentine's Day really ties into the symbol of love, and that's what it's about," Yelverton said. "I could not imagine not doing this, and I'm going to do what I can to ensure that it continues once I'm gone."
Contact
Steve Orbanek
Marketing Communications Coordinator, Penn State Erie, The Behrend College