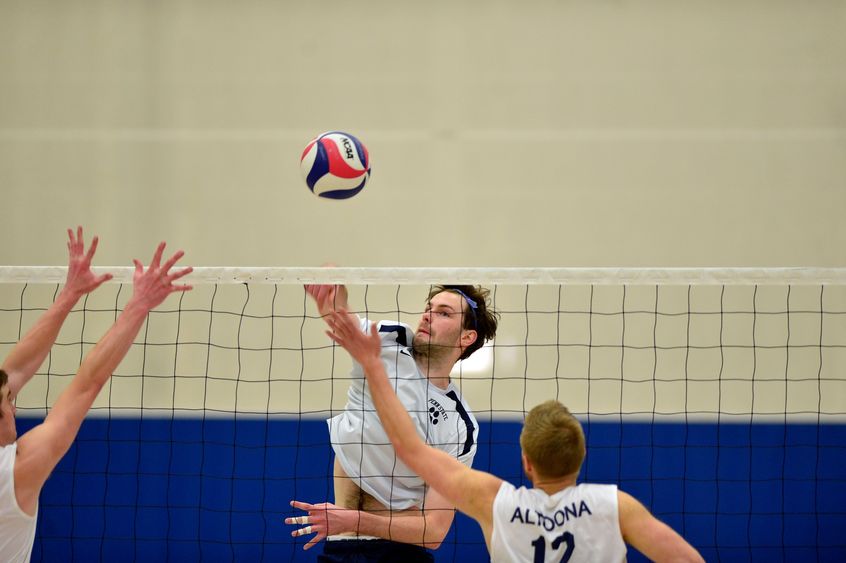 The men's volleyball team at Penn State Erie, The Behrend College, won its first Allegheny Mountain Collegiate Conference championship after posting a 3-1 conference record during the regular season. The team's only defeat in the conference was a five-set loss to Medaille.
The college's baseball, softball, tennis and water polo teams also were in action last week. Here are the highlights:
Baseball
Penn State Behrend 8, Waynesburg 1
Penn State Behrend 14, Waynesburg 5
The Lions scored six runs in the fifth inning of the nightcap. Scott Sada, a junior from Saegertown, hit two doubles in the inning.
Softball
Penn State Behrend 7, Thiel 0
Penn State Behrend 10, Thiel 4
Westminster 2, Penn State Behrend 1 (8 innings)
Westminster 8, Penn State Behrend 3
The team stacked a season-high 17 hits in the nightcap against Thiel. Mackenzie McIntire, a freshman from Stoneboro, earned her first win, allowing just three hits and one run.
Men's tennis
Penn State Behrend 7, Penn State Altoona 2
Penn State Behrend 8, Pitt-Greensburg 1
The Lions are undefeated in AMCC match-ups. The top four players won both singles and doubles matches against Penn State Altoona.
Women's water polo
Macalester 14, Penn State Behrend 1
Penn State Behrend 15, Utica 4
Monmouth 12, Penn State Behrend 6
Maryn Horn, a senior from Houston, Texas, scored six goals at the Collegiate Water Polo Association regional tournament at Monmouth, Ill. She now holds the school record for career goals, with 149.
Men's volleyball
Sienna Heights 3, Penn State Behrend 0
Penn State Behrend 3, Thiel 3
Tyler Hermann, a junior from Cranberry Township, had 16 kills and 16 digs in the tri-match against Sienna Heights and Thiel.
Scores, results and updates for Penn State Behrend athletics are posted at psblions.com.
Contact
Robb Frederick
Assistant director, news and information, Penn State Behrend
Jill Yamma
Sports information director, Penn State Erie, The Behrend College