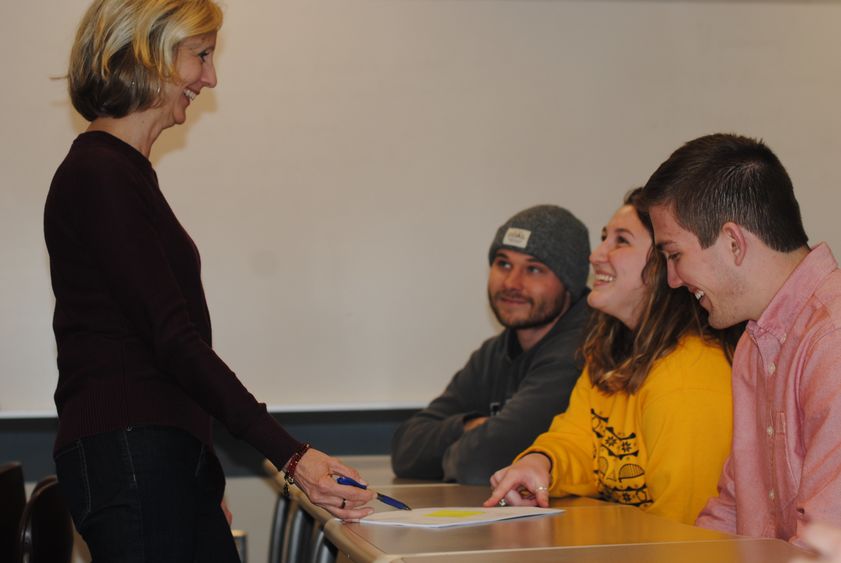 ERIE, Pa. — A few weeks ago, walking to class, Branson Elliott noticed something that caught his eye. A week earlier, the junior industrial engineering major might have kept moving, but not today.
"There was melting ice dripping down from a stairwell onto a set of the stairs," Elliott said.
The potential hazard was an immediate red flag for Elliott, who informed faculty members in the School of Engineering about the situation.
The Coudersport native is one of more than 20 students who recently completed Occupational Safety and Health Administration (OSHA) general industry training at Penn State Behrend. Clearly, it did not take long for him to put the training to good use.
The 10-hour training educates individuals to identify and prevent or remove common worksite hazards. Through lectures and videos, students gain an understanding of OSHA standards as well as safety and health hazards that are common in the workplace.
The training was one of two continuing education programs recently offered to Penn State Behrend students through the college's Office of Community and Workforce Programs. Lean Six Sigma Green Belt training also was offered in March and will again be offered in early May.
"For us, this is an opportunity to even better position our students for success upon graduation," said Michelle Hartmann, director of the Office of Community and Workforce Programs. "Being trained in OSHA and Lean Six Sigma standards can be a real asset to an individual, but there are many people who have been working professionally for years who do not have the training. So this is a way to give our students an edge."
Mallory Collins, a junior mechanical engineering major from Pittsburgh, enrolled in the OSHA training and said she can already see it paying dividends. At the college's Spring Career and Internship Fair earlier this month, she noticed how employers value this training.
"I spoke to several companies, and they were impressed by the fact that I was doing this training," Collins said. "One recruiter took my résumé and specifically made note of the fact that I had done this."
The instructor for the OSHA training was Joy Armbruster, an administrative support assistant in the college's School of Engineering who also is an authorized OSHA trainer. According to Armbruster, the training's value extends beyond making students more attractive candidates to potential employers. It's also a great lifelong asset.
"This training is good forever, and it really does impact your daily thinking," she said. "I don't think you can put a price on safety, and this knowledge is with you for the rest of your life, so the sooner you learn it, the better."
For more information on OSHA training, visit Behrend's OSHA site. Registration is now open for the May section of Lean Six Sigma Green Belt training. Visit the behrend.psu.edu/cwp to learn more.
Contact
Steve Orbanek
Marketing Communications Coordinator, Penn State Erie, The Behrend College