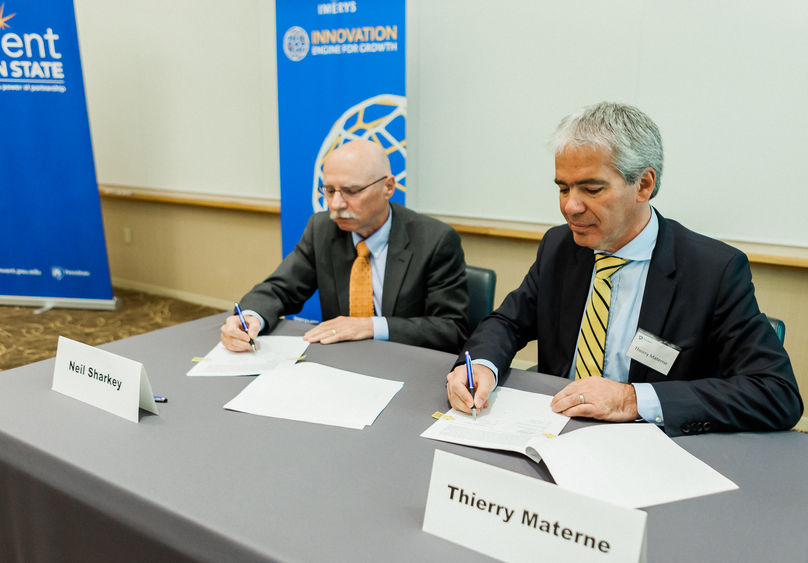 Yesterday at the Penn Stater Hotel and Conference Center, Penn State and Imerys, a global leader in mineral-based industrial solutions, celebrated the signing of a five-year Master Sponsored Research Agreement. The agreement expands the company's current relationship with the University's Materials Research Institute and Penn State Behrend's engineering program to include the development of new technologies, materials and other intellectual property.
"We're thrilled to be strengthening ties with another global industry leader and welcoming them to play a larger role in our Penn State innovation community," said Penn State Vice President for Research Neil Sharkey.
Imerys recently reorganized its research and development team and set up a platform innovation team. The company underwent a process to select a top-tier research university to serve as its platform innovation partner in North America. The Office of Industrial Partnerships (OIP) at Penn State took the lead role.
"We learned about Imerys' business, clarified their needs and began connecting them to the relevant research institutes, centers, faculty and facilities at Penn State," said Associate Vice President for Research and Director of the Office of Industrial Partnerships Jeff Fortin. "We provided one liaison for them that served as a concierge to the wealth of expertise and resources at Penn State."
"After OIP hosted a number of representatives from Imerys who reviewed Penn State's scientific breadth and competency, strong industry-engagement program, industry-friendly intellectual property policy and high-quality student talent pool, the company chose Penn State," he said.
Thierry Materne, chief innovation officer at Imerys, said, "I am delighted to start this exciting collaboration with Penn State in North America. As a leader in industrial solutions from natural and synthetic to advanced materials, Imerys' ambition is to be ahead as a world-class innovative company. Partnering with Penn State University will enable us to benefit from a wide array of expertise that mirrors the diversity of our markets to jointly develop projects that will provide value and growth opportunities to Imerys."