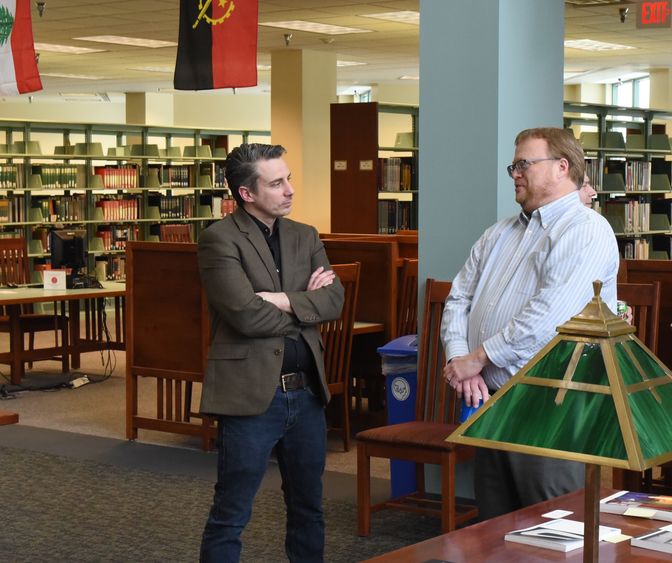 ERIE, Pa. — The scholarly works of more than 40 faculty members were on display Wednesday, April 18, at the Faculty Publication Reception at Penn State Behrend.
The reception, held at the college's John M. Lilley Library, gave Penn State Behrend faculty members the opportunity to display work published since 2016. Publications included authored books, peer-reviewed journal articles, conference papers, chapters or essays appearing in textbooks, and other print.
In all, more than 100 works were on display. All four of the college's schools (Black School of Business, School of Engineering, School of Humanities and Social Sciences and School of Science) were represented.
Faculty works showcased at the reception included:
"Creative Aerobics: Fueling Imagination in the 21st Century," a book co-authored by Arpan Yagnik, assistant professor of advertising.
"Splattered Ink," a book by assistant teaching professor of English and women's studies Sarah Whitney that analyzes postfeminist Gothic literature.
The Journal of Asset Management scholarly article "Socially Responsible Investing in Hedge Funds," written by Greg Filbeck, director of the Black School of Business, and Tim Krause, assistant professor of finance.
The article "Dangling Bond Defects in SiC: An Ab Initio Study," which was written by associate professor of physics Blair Tuttle appearing in the scholarly journal Physical Review B.
The Applied Mechanics and Materials scholarly article "An Analysis on Bilayer Tube Flaring," written by Chetan Nikhare, assistant professor of mechanical engineering.
"The reception provides an excellent opportunity to highlight faculty members' research across a wide range of disciplines," said Ivor Knight, associate dean for research and graduate studies. "It also gives our students a chance to see the impact of our faculty members' scholarly activity beyond the classroom."
The reception was coordinated by associate librarian Russ Hall. This marked the fifth time that the Faculty Publication Reception was held at Penn State Behrend.
Contact
Steve Orbanek
Marketing Communications Coordinator, Penn State Erie, The Behrend College