Camp offered by Young People's Chorus of Erie as part of Behrend's College for Kids program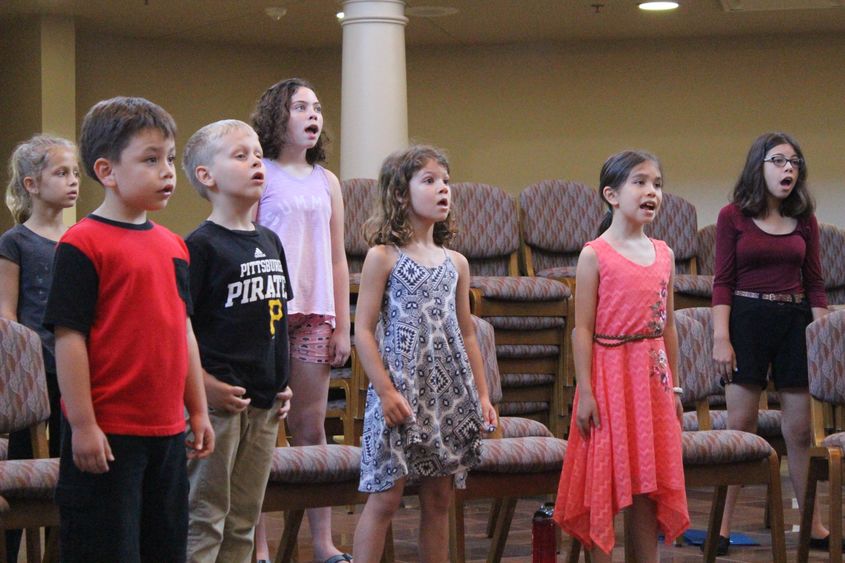 ERIE, Pa. — Anna Amendola, Ava Caccamo, Jackson Howe and Taylor Mellish busily conversed during the intermission of the Young People's Chorus of Erie Camp, offered as part of Penn State Behrend's College for Kids program.
They laughed and smiled, eating snacks and sipping from juice boxes. For these four elementary-aged children, it was their first time singing as part of a chorus. It will likely not be their last.
"I just love singing. My dad always sings, so he got me into it, and it just makes me happy," said Caccamo, a 9-year-old student at Asbury Elementary School.
"I just like all of it," said Howe, a student at Robison Elementary School. "I really like singing 'Old Abram Brown,' and it's nice to see there are other boys here who like to sing, too."
Nearly 30 young people were enrolled in this year's camp, which was held in late June as one of more than 100 courses offered this summer as part of College for Kids. This was the first time the Young People's Chorus (YPC) of Erie offered a course through College for Kids.
An outreach program of the School of Humanities and Social Sciences at Penn State Behrend, YPC Erie is northwestern Pennsylvania's only comprehensive youth choral music program. Since 2009, more than 1,000 students from 37 public, private and parochial schools have benefited from the program.
During the camp, students participated in fast-paced choral rehearsals and music theory classes geared to beginning/intermediate singers and those new to singing in a choir. They learned under the instruction of Gabrielle Dietrich, artistic director of YPC Erie and director of choral ensembles at Penn State Behrend.
"She's just amazing!" Caccamo said. "She really knows her stuff."
The weeklong camp focused on more than vocals. Participants also learned to play drums and maracas. They even received a lesson in foreign languages, as two songs were sung in Spanish.
"I pretty much have liked everything we've done this week," Amendola said. "This makes me really want to join the Young People's Chorus of Erie."
Contact
Steve Orbanek
Marketing Communications Coordinator, Penn State Erie, The Behrend College