Senior thrives during internship at Minneapolis' Target Field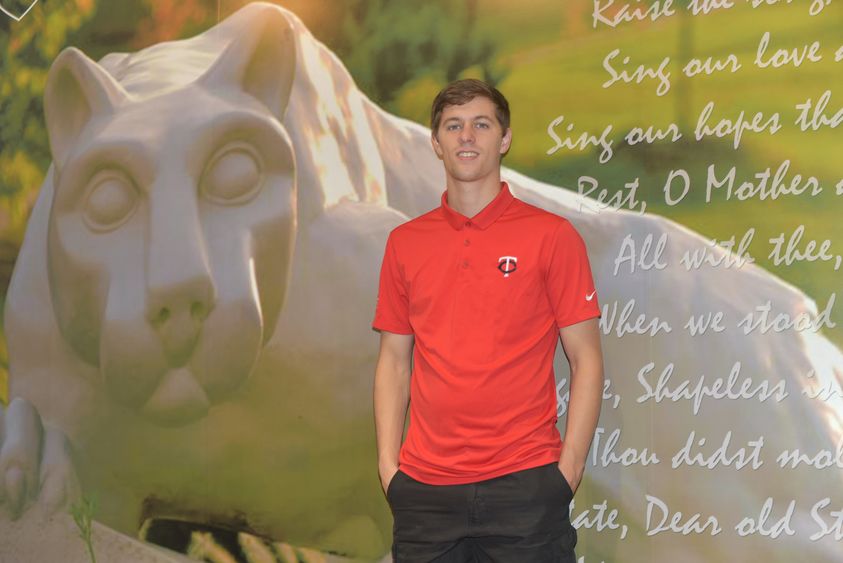 ERIE, Pa. — From the time Sean Wither was in eighth grade, the Williamsport native's summers have been spent selling concessions at the Little League World Series.
Initially, it was just a way to make extra cash. In retrospect, it was the start of a career.
This past summer, Wither, a student at Penn State Erie, The Behrend College, interned with Delaware North, a global food service and hospitality company that supports several of the country's professional sports teams. Wither was stationed at Target Field in Minneapolis, home of Major League Baseball's Minnesota Twins.
"I like the sports environment, and I really like the sports supply-chain realm," said Wither, a senior project and supply chain management major. "There's something new to it each day."
Wither looked into Delaware North after a conversation with his boss at the Little League World Series. While he had worked concessions there for years, he was unaware that Delaware North was the food provider.
A job at Target Field seemed like a natural fit.
In May, Wither moved to Minneapolis for the summer to begin his first professional internship. Every day was different, which is why the role resonated with him.
The work involved far more than simply providing concessions to patrons. It entailed managing people and inventory, and it required Wither to leave his comfort zone at times.
"I found myself in some hard places at times," he said. "While I had managed people before, I was not used to being firm in my communications, but it was something I had to do."
The challenge was not a bad thing.
"I like to be positive in managing people, so it was hard to put on my serious face, but it helped me grow," he said. "I developed a thick skin, but I was also able to maintain my composure, and it will help me down the road."
Some days, Wither found himself with as many as 13 different concession stands to manage. He also assisted in the commissary, where he oversaw inventory.
Every day, alcohol compliance was key.
"That's so important," Wither said. "You have to make sure your fans are safe."
The days could be long. During a Twins homestand, Wither estimated that he worked at least 70 hours a week. When the team was away, he averaged about 30 hours per week.
Despite the rigorous workdays, the experience resonated with Wither.
"I'm an active person, and I'm a people person," he said. "It was great interacting with fans, and I just do not think a desk job is for me."
Wither, who will graduate in December, is already preparing for the future. He plans to apply for Delaware North positions and hopes to relocate to Buffalo, the company's headquarters, after graduation.
Contact
Steve Orbanek
Marketing Communications Coordinator, Penn State Erie, The Behrend College