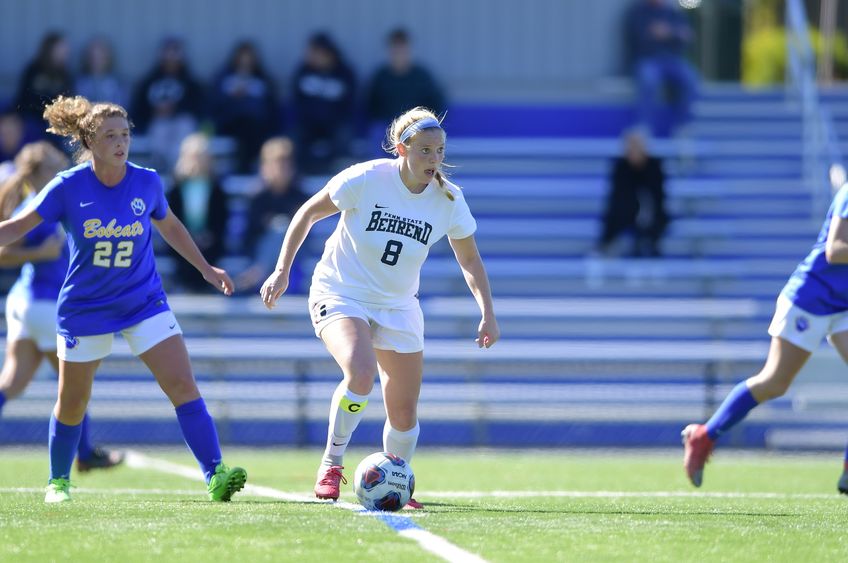 The women's soccer team at Penn State Erie, The Behrend College, won its eighth consecutive Allegheny Mountain Collegiate Conference title with a 1-0 victory over Mt. Aloysius. The men's team defeated Medaille, 3-1. Both teams carry eight-game winning streaks into the NCAA tournaments.
The college's volleyball, wrestling, bowling and swimming and diving teams also were in action last week. Here are the highlights:
Men's soccer
Penn State Behrend 3, Medaille 1
Penn State Behrend 5, Franciscan 2
The Lions finished their season with a 14-3-2 record, including the Allegheny Mountain Collegiate Conference regular-season and championship titles. The team will face Lycoming in the first round of the NCAA Division III tournament on Nov. 10.
Women's soccer
Penn State Behrend 1, Mt. Aloysius 0
Penn State Behrend 3, Penn State Altoona 0
The Lions take an eight-game winning streak into the NCAA Division III tournament, where they will face Tufts University on Nov. 10. Brenna McGuire, a freshman from McDonald, scored twice in the AMCC championship game. She led the conference in goals this season.
Women's volleyball
Pitt-Bradford 3, Penn State Behrend 2
Penn State Behrend 3, La Roche 1
The Lions led Pitt-Bradford by two sets in the AMCC championship match but eventually lost. The final score was 18-25, 15-25, 26-24, 25-15, 18-16. The team holds the second seed in Pod 2 for the Eastern Collegiate Athletic Conference South Region Tournament, which begins Nov. 7.
Women's swimming and diving
Chatham 157, Penn State Behrend 122
Behrend diver Flor Parra, a freshman from Queretaro, Mexico, won the 1-meter and 3-meter events. Abigail Witmer, a junior from Herndon, Virginia, won the 200-meter butterfly.
Men's wrestling
Penn State Behrend 28, Pitt-Bradford 17
The Lions won six of the 10 bouts. Cole Ruffo, a freshman from Mercer; Jake Ognibene, a sophomore from Washington; and Jake Paulson, a sophomore from Erie; all won by technical decision.
Women's bowling
St. Vincent 981, Penn State Behrend 721
St. Vincent 845, Penn State Behrend 631
St. Vincent 807, Penn State Behrend 641
Brianna Lundy, a junior from North Huntingdon, led the Lions in all three matches. In the first, she was one pin shy of tying the top overall bowler.
Scores, results and updates for Penn State Behrend athletics are posted at psblions.com.
Contact
Robb Frederick
Assistant director, news and information, Penn State Behrend
Jill Yamma
Sports information director, Penn State Erie, The Behrend College