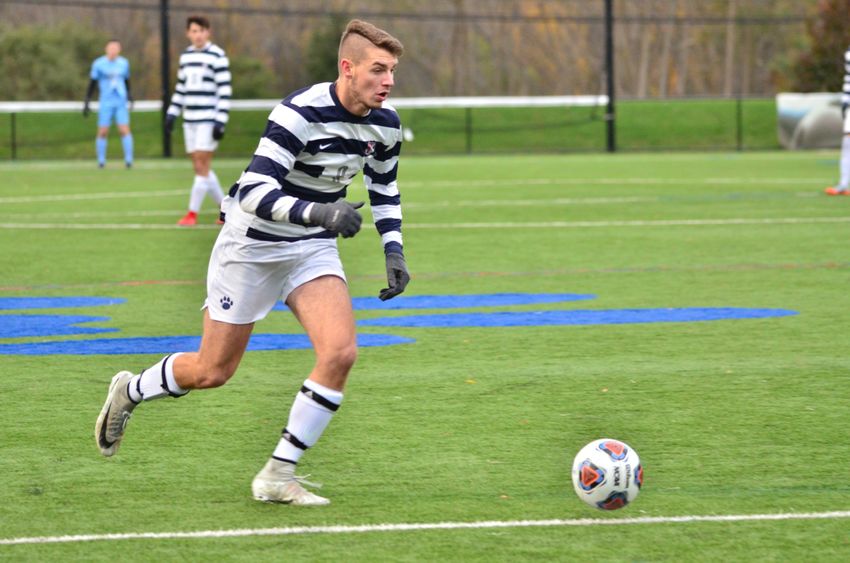 A highlight-reel bicycle kick in the 102nd minute lifted the Penn State Behrend men's soccer team over host John Carroll in the second round of the NCAA Division III soccer tournament. The goal – the ninth of the season for senior Dakota Lange, a forward from Apollo – broke a two-overtime tie and carried the Lions into the Sweet 16 round of the tournament for the first time in program history.
Lange scored on a crossing pass by Nick Schwarzel two minutes into the second overtime period. The ball bounced high off his leg, but Lange was able to connect again, stretching for a chest-high kick that found the net.
It was the team's second 1-0 win in as many days: The Lions blanked Lycoming College in the tournament's first round, on Nov. 10.
"These guys know how to grind," head coach Dan Perritano said. "They have each other's backs, in terms of how they defend, and they recover well when we lose the ball. We compete well against teams that are better than us because of that.
"We knew that John Carroll was going to have the ball more, and they did, throughout the game, but our guys didn't give up."
His team has reason to be confident: Their 16-3-2 season has built to a 10-game winning streak.
The Lions have outscored their opponents 40-4 in those last 10 games. They've been even better on defense, posting 13 shutouts since the season began.
"They take a lot of pride in not conceding goals," Perritano said.
Goalkeeper Chris Ralph – a transfer from St. Francis, a Division I team – has anchored the defense, making 67 saves throughout the season. He blocked six shots against John Carroll.
Ralph is a two-time Allegheny Mountain Collegiate Conference Defensive Player of the Year. He has a save percentage of .843.
He'll need another big game on Nov. 16, when Behrend faces Calvin College in the Sweet 16 round of the NCAA tournament. Calvin is ranked No. 4 in the nation, according to the United Soccer Coaches NCAA Division III poll. D3soccer.com ranks them No. 1.
Calvin enters the Sweet 16 with a 19-1 record and a 12-game winning streak. In that match-up, Perritano once again will need to lean on his defense.
"This team has made a believer out of me," he said. "They believe in each other, and they play for each other, and they compete in a very collective way. I'm proud of that."
Contact
Robb Frederick
Assistant director, news and information, Penn State Behrend
Jill Yamma
Sports information director, Penn State Erie, The Behrend College