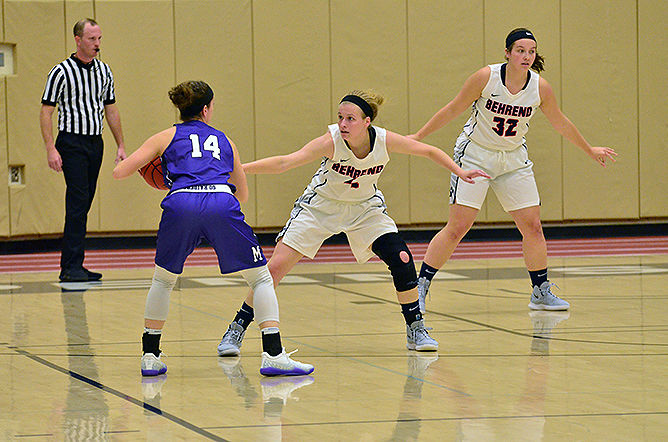 Penn State Behrend's basketball teams opened their 2018-19 seasons hoping to build on the college's athletic success during the fall semester – including a best-ever showing by the men's soccer team in the NCAA Division III tournament.
The college's soccer, wrestling and water polo teams also were in action last week. Here are the highlights:
Men's soccer
Calvin 4, Penn State Behrend 1
The Lions exited the NCAA Division III tournament in the semifinals round, finishing their season with a 16-4-2 record. Goalkeeper Chris Ralph, a senior from Murrysville, made eight saves, including a blocked penalty kick.
Men's basketball
Penn State Behrend 63, Thiel 46
Penn State Behrend 81, Carnegie Mellon 72
Dan Wanker, a senior from Pittsburgh, scored 20 points against Thiel. Andy Niland, a senior from Fairview, scored 23 against Carnegie Mellon.
Women's basketball
Wooster 68, Penn State Behrend 62
Mt. Union 74, Penn State Behrend 43
Penn State Behrend 61, Fredonia 57
Alanna Dibble, a freshman from Lakewood, New York, was named to the all-tournament team for the Creative Imprints Tip-Off Tournament by shooting 42.9 percent from the field. She added 11 points and a game-high 14 rebounds against Wooster.
Wrestling
John Carroll 46, Penn State Behrend 3
Waynesburg 31, Penn State Behrend 14
Penn State Behrend 32, Urbana 21
Lourdes 38, Penn State Behrend 18
Jake Paulson, a sophomore from Erie, was 4-0 at the John Carroll Duals. Paulson, who wrestles in the 184-pound weight class, won twice by pin and twice by decision.
Men's water polo
Penn State Behrend 13, Austin College 10
Penn State Behrend 8, Austin College 6
UCLA 18, Penn State Behrend 1
Isaak Hatopp, a junior from Saline, Michigan, and Austin Hoff, a junior from Lake Forest, California, each scored three goals against Austin College to win the fifth-place game at the Mountain Pacific Sports Federation Championships.
Scores, results and updates for Penn State Behrend athletics are posted at psblions.com.
Contact
Robb Frederick
Assistant director, news and information, Penn State Behrend
Jill Yamma
Sports information director, Penn State Erie, The Behrend College