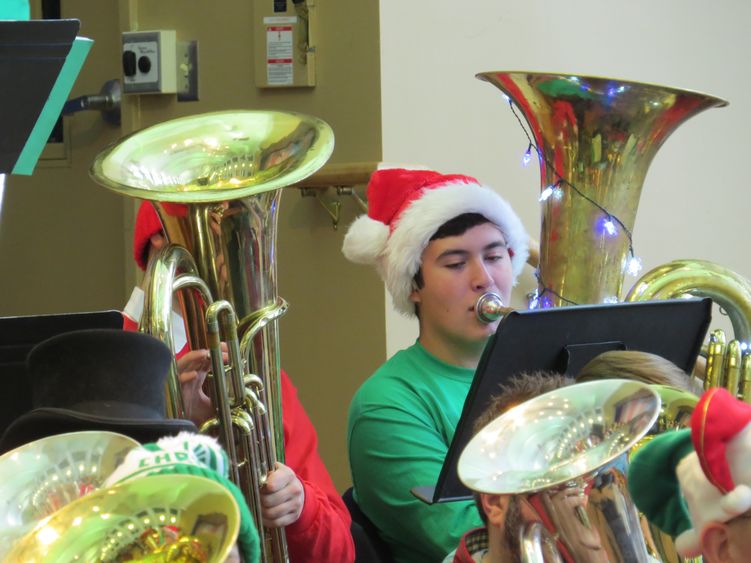 ERIE, Pa. — The snow, trees, decorations, toys and sales are a constant reminder of the holiday season. At Penn State Behrend, the season has another marker: rows and rows of low-brass musicians.
The 17th annual Erie presentation of Tuba Christmas will be held Saturday, Dec. 8, in the McGarvey Commons of the college's Reed Union Building. The performance begins at 1 p.m. and is free and open to the public.
As its name implies, Tuba Christmas features songs of the season interpreted by an ensemble of student, amateur and professional low-brass musicians performing under guest directors Gary Viebranz of Penn State Behrend, Daniel Burdick of Edinboro University of Pennsylvania, and Lowell Hepler and Ron Stitt of Allegheny College. In previous years, more than 70 musicians have performed during the concert.
All tuba and euphonium musicians are invited to join the Tuba Christmas performance; registration begins at 8:30 a.m. and rehearsals will be held on site, beginning at 9:30 a.m. and continuing until 11:45 a.m.
To register to participate, visit sites.psu.edu/tubachristmaserie or contact Viebranz at 814-898-6289 or [email protected]. For performers, there is a registration fee of $10, which includes lunch and a commemorative button.
Tuba Christmas debuted at Rockefeller Center's ice rink in 1974 as a tribute to the late tuba legend William J. Bell, who was born on Christmas Day 1902. Tuba Christmas is produced nationally by the Harvey Phillips Foundation; the Erie performance is supported by the Mary Behrend Cultural Fund.
Contact
Steve Orbanek
Marketing Communications Coordinator, Penn State Erie, The Behrend College