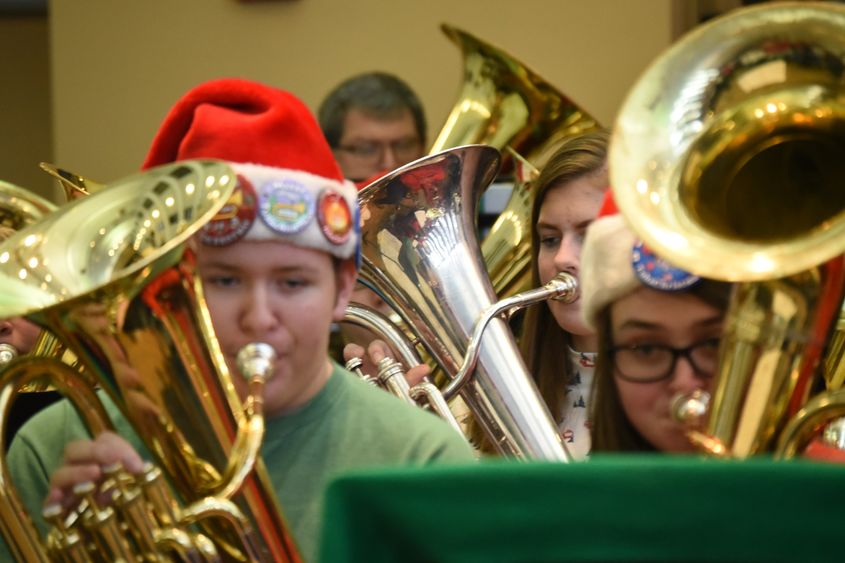 ERIE, Pa. — Tuba players are a jolly lot, according to Penn State Behrend Teaching Professor of Music Gary Viebranz.
"Low-brass players tend to have a good sense of humor and a real love of what they do," said Viebranz, who also serves as Penn State Behrend's director of instrumental ensembles. "There's a real camaraderie there."
That's hard to miss at Tuba Christmas, when an all-brass ensemble – some dressed in holiday pajamas – perform jaunty Christmas standards.
Penn State Behrend's concert – the 18th annual tuba concert at the college – will begin at 1 p.m. on Saturday, Dec. 7, in the McGarvey Commons of the Reed Union Building. The performance, which will include renditions of "Deck the Halls," "The First Noel" and, naturally, "Fum, Fum, Fum," is free and open to the public.
Student, amateur and professional low-brass musicians are invited to join the performance; the $10 registration fee includes lunch and a commemorative button. Rehearsals will be held on-site beginning at 9:30 a.m.
For more information, or to register, visit www.sites.psu.edu/tubachristmaserie or contact Viebranz at 814-898-6289 or [email protected].
Tuba Christmas debuted at Rockefeller Plaza in 1974. The first program was produced by acclaimed tuba player Harvey Phillips, whose career stretched from circus gigs to the U.S. Army Field Band to the famed Juilliard School performing art conservatory. He also managed the finances at the New England Conservatory of Music.
Today, there are more than 180 Tuba Christmas concerts, including Penn State Behrend's concert, all produced with support from the Harvey Phillips Foundation.
Contact
Robb Frederick
Assistant director, news and information, Penn State Behrend