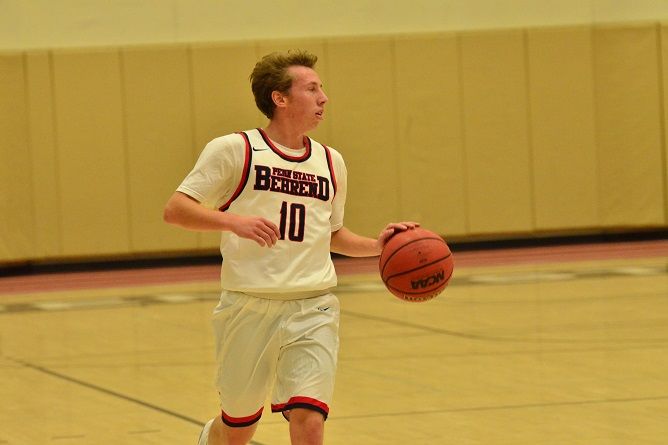 A layup in the second half of a loss to La Roche gave Penn State Behrend basketball player Andy Niland his 1,000th career point. Niland, a senior from Fairview, is just the 19th player in program history to reach that mark.
The college's track and field teams also were in action last week. Here are those sports highlights:
Men's basketball
Penn State Behrend 101, Pitt-Bradford 59
La Roche 74, Penn State Behrend 64
Penn State Behrend 80, Allegheny 77
Mike Fischer, a senior from Wexford, scored 20 points and added eight rebounds against Allegheny. He was one of five Lions with double-digit scoring in that game.
Women's basketball
Pitt-Bradford 62, Penn State Behrend 52
La Roche 71, Penn State Behrend 54
Adrian 80, Penn State Behrend 44
Caitlin Carnuche, a freshman from New Castle, scored 18 points and added five assists against La Roche. She scored 12 points against Pitt-Bradford.
Men's track and field
Zachary Tingley, a freshman from Stoneboro, won the 800-meter race at the Mt. Union Toy Drive Collegiate Invitational. He finished in 2:01.53. Chris Drozynski, a junior from Stoneboro, won the mile run with a time of 4:32.11.
Women's track and field
Jenna Shelton, a senior from Cabot, won the 3,000-meter race at the Mt. Union Toy Drive Collegiate Invitational. She finished in 11:02.01. Riley Crissman, a junior from Bradford, finished second, with a time of 11:07.96.
Scores, results and updates for Penn State Behrend athletics are posted at psblions.com.
Contact
Robb Frederick
Assistant director, news and information, Penn State Behrend
Jill Yamma
Sports information director, Penn State Erie, The Behrend College