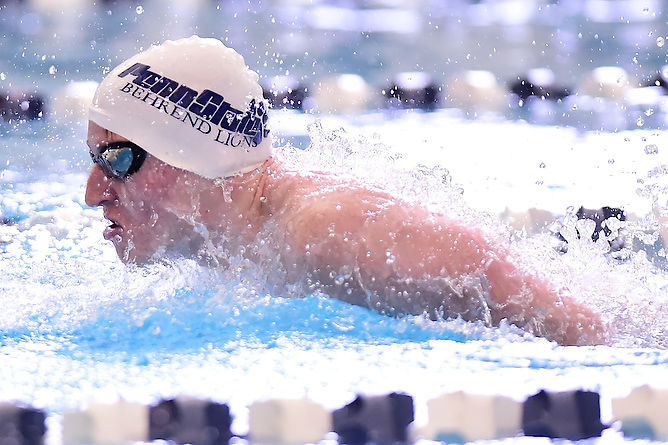 Penn State Behrend's swimming and diving teams dominated Washington and Jefferson in nonconference action on Jan. 12. Ten of the men won their events. In the women's meet, three swimmers – Barbie Cessar, Abigail Witmer and Jessica Wyckoff – each won three events.
The college's basketball and wrestling teams also were in action last week. Here are the highlights:
Men's basketball
Penn State Behrend 82, Franciscan 55
D'Youville 73, Penn State Behrend 71
Andy Niland, a senior from Fairview, scored 22 points against Franciscan. Nolan Nuara, a sophomore from Erie, scored a career-high 21 points against D'Youville.
Women's basketball
Franciscan 67, Penn State Behrend 57
D'Youville 80, Penn State Behrend 65
Alanna Dibble, a freshman from Lakewood, N.Y., scored 20 points and added 11 rebounds against D'Youville. Caitlyn Carnuche, a freshman from New Castle, led the team against Francsican, scoring 15 points.
Men's swimming and diving
Penn State Behrend 100, Washington and Jefferson 62
The Lions won the opening event – the 200-meter medley relay – with a strong showing by Alex Croll, Matt Karenbauer, Mark Patterson and Chase Bietz. By the end of the meet, 10 of the team's swimmers had won their races.
Women's swimming and diving
Penn State Behrend 118, Washington and Jefferson 61
The Lions won 10 of the meet's 15 events. The 200-meter medley relay team – Marcella Puglia, Barbie Cessar, Abigail Witmer and Jessica Wyckoff – placed first in their event, finishing in 2:02.96.
Wrestling
Penn State Behrend 54, Alfred State 0
Washington and Jefferson 44, Penn State Behrend 12
West Liberty 39, Penn State Behrend 6
Levko Higgins, a sophomore from Palmyra, won three matches– two by pin and one by decision. Jake Paulson, a sophomore from Erie, won twice at 184 pounds. He is undefeated in dual-meet action this season.
Scores, results and updates for Penn State Behrend athletics are posted at psblions.com.
Contact
Robb Frederick
Assistant director, news and information, Penn State Behrend
Jill Yamma
Sports information director, Penn State Erie, The Behrend College