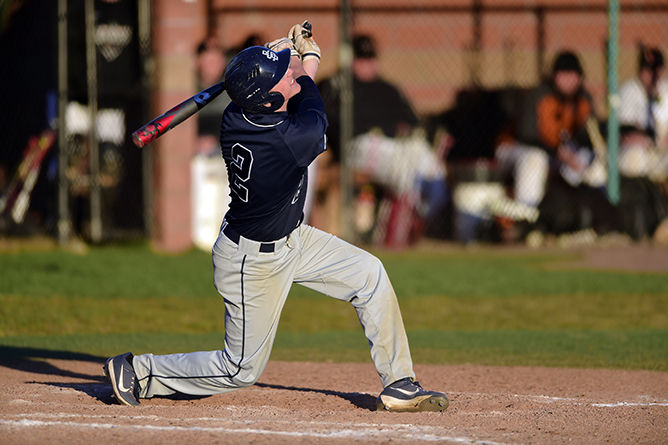 Penn State Behrend's baseball and softball teams opened their seasons with spring-break games in Florida. The baseball team was 1-2 at midweek; the softball team was 1-1.
The college's basketball, track and field, tennis, volleyball, water polo and bowling teams also were in action last week. Here are the highlights:
Baseball
Penn State Behrend 8, Wilkes 4
Lebanon Valley 6, Penn State Behrend 4
Houghton 7, Penn State Behrend 2
Justin Foreman, a senior from Oakdale, hit a three-run double with two outs to give the Lions the lead over Wilkes. Phil Myers, a senior from DuBois, threw 70 strikes on 90 pitches and gave up just two earned runs.
Softball
Penn State Behrend 8, Aurora 6
Heidelberg 7, Penn State Behrend 3
Three players – Alayna Derzak, Carson Hauser and Marissa Torretti – each scored two runs against Aurora.
Men's basketball
Hamilton 72, Penn State Behrend 70
The Lions exited the NCAA Division III tournament with a two-point loss to Hamilton. Justin Gorny, a senior from South Park, and Mike Fischer, a senior from Wexford, each scored 17 points. Gorny also led the team in rebounds, with 11.
Men's track and field
Thirteenth (of 40 teams) at the All-Atlantic Track and Field Championships.
Braeden Smith, a sophomore from Erie, won the high jump with a leap of 2.06 meters. He tied for the tenth-best score in the nation and will compete at the NCAA Championships in Boston.
Women's track and field
Twenty-second (of 40 teams) at the All-Atlantic Track and Field Championships.
Haley Yenchik, a senior from Cecil, placed fifth in the pole vault, clearing a height of 3.52 meters. Behrend's distance-medley relay team – Savanna Carr, Gabriella Loeffler, Jenna Shelton and Courtney Sargent – placed sixth, finishing in 12:34.17 – a school record.
Men's volleyball
Geneva 3, Penn State Behrend 2
Penn State Behrend 3, Hiram 1
Penn State Behrend 3, Thiel 2
Dillon Hildebrand, a junior from Red Lion, recorded 16 kills and 12 digs against Geneva. Tyler Hermann, a senior from Cranberry Township, added 12 kills and 15 digs.
Women's water polo
Occidental 15, Penn State Behrend 8
Redlands 15, Penn State Behrend 1
Concordia 17, Penn State Behrend 2
Daniella Rios, a sophomore from Guaynabo, Puerto Rico, scored four goals against Occidental. Lauren Wood, a senior from Vernon Hills, Illinois, added three more.
Men's tennis
St. Vincent 8, Penn State Behrend 1
Belden Tuttle, a sophomore from Fairview, won at No. 6 singles. He is 6-1 for the season in singles play.
Women's bowling
Fifth (of eight teams) at the Allegheny Mountain Collegiate Conference Round Robin tournament.
Brianna Lundy, a junior from North Huntingdon, led the Lions with 230 points against Mt. Aloysius and 192 against Penn State Altoona.
Scores, results and updates for Penn State Behrend athletics are posted at psblions.com.