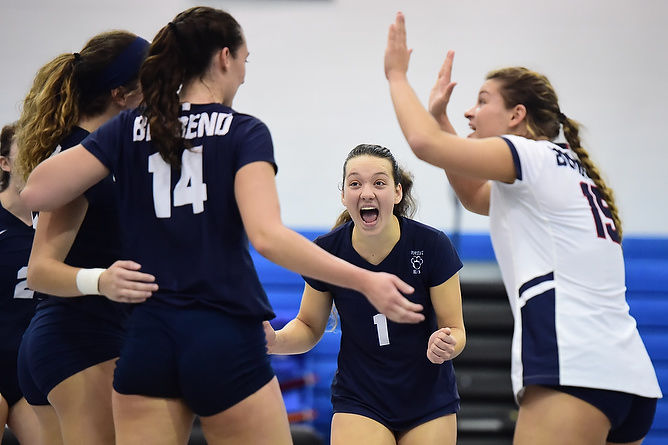 The Penn State Behrend women's volleyball team won the Allegheny Mountain Collegiate Conference championship in straight sets, defeating Pitt-Bradford in Junker Center. The win gives the team its fifth AMCC title.
Penn State Behrend's soccer, water polo, swimming and diving, basketball, bowling and wrestling teams also were in action last week. Here are the highlights.
Men's soccer
Penn State Behrend 1, Medaille 0
Penn State Behrend 4, Mt. Aloysius 1
Richard Blanchard, a junior from Erie, scored on a penalty kick in the 75th minute of the Allegheny Mountain Collegiate Conference championship game, giving the Lions their 10th conference title.
Women's soccer
Pitt-Greensburg 3, Penn State Altoona 2
Penn State Behrend 3, Mt. Aloysius 2
Brenna McGuire, a sophomore from McDonald, and Payton Porter, a sophomore from State College, scored goals, but the Lions lost to Pitt-Greensburg in the AMCC championship game.
Women's volleyball
Penn State Behrend 3, Pitt-Bradford 0
Penn State Behrend 3, Penn State Altoona 0
Kristin Reiland, a sophomore from Fairview, had 15 kills and 15 digs in the AMCC championship game. Alex Parra, a senior from Pittsburgh, added 11 kills. Both were named to the All-Tournament Team.
Men's swimming and diving
Penn State Behrend 156, Baldwin Wallace 70
The Lions won 10 events. The 200 medley relay team – Liam Watterson, a junior from Brentwood; Chase Bietz, a sophomore from Clearfield; Matt Karenbauer, a sophomore from Butler; and Quinn Fischer, a senior from Fairview – finished in 1:38.44, placing first.
Women's swimming and diving
Baldwin Wallace 139, Penn State Behrend 80
Marcella Puglia, a sophomore from Beaver Falls, won the 500 and 200 freestyle races. Barbie Cessar, a sophomore from Slippery Rock, won the 200 breaststroke.
Men's water polo
Arizona Ottawa 12, Penn State Behrend 8
Austin 13, Penn State Behrend 8
Andre Sardaryzadeh, a senior from Murrieta, California, scored three goals against Arizona Ottawa and two more against Austin. Goalie Matt Olimski, a junior from San Diego, made 23 saves across the two games.
Women's basketball
Penn State Behrend 83, Waynesburg 74
Alanna Dibble, a sophomore from Lakewood, New York, scored 15 points and added 10 rebounds. Ashley Seamon, a sophomore from West Allegheny, and Kara Haslett, a sophomore from Baden, each scored 17 points.
Wrestling
Michael Binni, a sophomore from Canonsburg, won twice by technical fall at the Washington and Jefferson Invitational. He wrestles in the 125-pound weight class. Jatin Chaudhary, a freshman from Hoshiarpur, India, won by pin and forfeit in the 197-pound class.
Women's bowling
Natalie Denny, a sophomore from Harborcreek, led the Lions on the first day of the Redhawk Rally. She bowled a 186 against Daemen.
Scores, results and updates for Penn State Behrend athletics are posted at psblions.com.
Contact
Robb Frederick
Assistant director, news and information, Penn State Behrend
Jill Yamma
Sports information director, Penn State Erie, The Behrend College