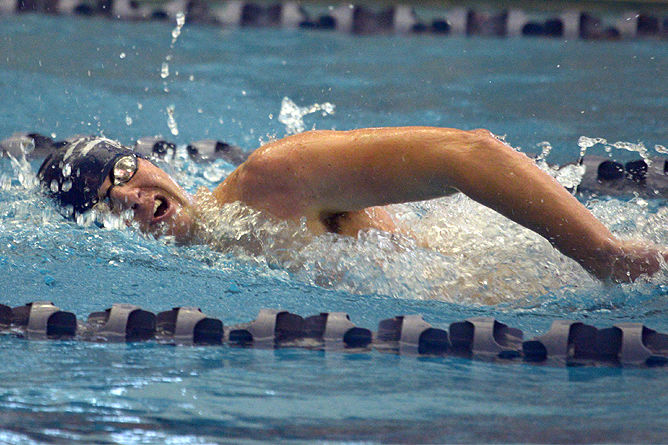 ERIE, Pa. — The Penn State Behrend men's swimming and diving team won the three-day Oberlin Invitational, leading the next-best team by 182.5 points. The women's team finished seventh.
The college's basketball, cross country, water polo, wrestling and bowling teams also were in action over the last two weeks. Here are the highlights:
Men's basketball
Pitt-Greensburg 71, Penn State Behrend 69
Penn State Behrend 82, Medaille 68
Allegheny 78, Penn State Behrend 71
The Lions made 18 of 19 free throws against Medaille. Dorian Connors, a senior from Girard, led the team with 23 points and 11 rebounds.
Women's basketball
Penn State Behrend 66, Pitt-Greensburg 62
Penn State Behrend 71, Medaille 48
Penn State Behrend 75, Alfred State 59
Allegheny 91, Penn State Behrend 82
Alanna Dibble, a sophomore from Lakewood, New York, scored a career-high 24 points against Allegheny. Caitlin Carnuche, a sophomore from New Castle, scored 23 against Pitt-Greensburg.
Women's cross country
Savanna Carr, a junior from Franklin, placed 215th in a field of 350 runners at the NCAA D-III championships. She is the only Behrend cross country runner to have twice qualified for the national championships.
Men's swimming and diving
First (of 12 teams) at the Oberlin Invite
The 200 freestyle relay team — Chase Bietz, a sophomore from Clearfield; Jacob Schmidt, a junior from Erie; Quinn Fischer, a senior from Fairview; and Alex Croll, a junior from Honolulu, Hawaii — won in 1:24.69. That was the third-fastest time in program history.
Women's swimming and diving
Seventh (of 13 teams) at the Oberlin Invite
Barbie Cessar, a sophomore from Slippery Rock, placed fifth in the 100 breaststroke, finishing in 1:11.35. Marcella Puglia, a sophomore from Beaver Falls, finished seventh in the 200 freestyle, finishing in 2:00.78.
Men's water polo
Penn State Behrend 8, Austin 7
Austin 10, Penn State Behrend 9
UCLA 27, Penn State Behrend 4
The Lions placed fifth at the Mountain Pacific Sports Federation Championship tournament. Austin Hoff, a senior from Lake Forest, California, scored the game-winner against Austin on a penalty shot with one second remaining in the game.
Wrestling
Lourdes 47, Penn State Behrend 0
Waynesburg 44, Penn State Behrend 7
Urbana 41, Penn State Behrend 9
Michael Binni, a sophomore from Canonsburg, won two matches at the John Carroll duals. He won by decision at 125 pounds and at 133 pounds.
Women's bowling
St. Vincent 3, Penn State Behrend 0
Bridgette O'Neil, a sophomore from Pittsburgh, had the highest traditional score for the Lions, with a 168.
Scores, results and updates for Penn State Behrend athletics are posted at psblions.com.
Contact
Robb Frederick
Assistant director, news and information, Penn State Behrend
Jill Yamma
Sports information director, Penn State Erie, The Behrend College