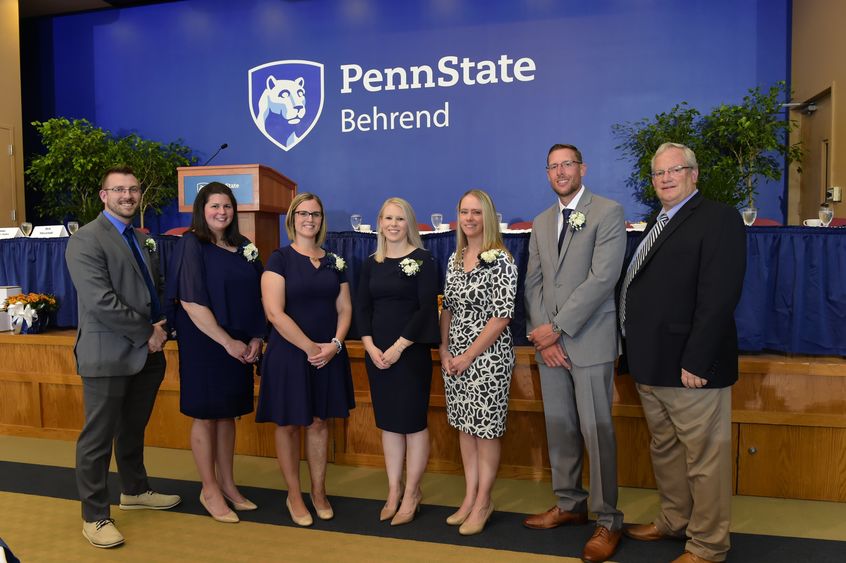 Six former student-athletes – three of whom still hold program records – have been inducted into the Penn State Behrend Athletics Hall of Fame. The induction ceremony was held in McGarvey Commons, in the college's Reed Union Building.
"We have a rich history of athletic success at Penn State Behrend," Director of Athletics Brian Streeter said. "These student-athletes performed at an elite level, on the court and in the classroom, and set the benchmarks that guide our current teams. It's always exciting to bring them back to campus, and to recognize their successes."
This year's Athletics Hall of Fame inductees graduated in 2009. They include:
·         Nikki Frisbee Gailey, who led the Behrend women's soccer team to two Allegheny Mountain Collegiate Conference titles. A four-time all-AMCC selection and former AMCC player of the year, she finished her career ranked second in career goals (39), assists (23) and points (101). Today, she ranks fifth in program history in each of those categories.
·         Brittany Hennessy Falkenhan, who led the women's volleyball team to an unprecedented 35-1 conference record. As a freshman, she earned the AMCC Newcomer of the Year award, recording 61 aces and 538 digs. The following year, she led the team to its first Eastern College Athletic Conference regional tournament. She holds the program record for career digs (2,160) and is second in service aces.
·         Nicole Kaschauer Wingertsahn, who led the Behrend softball team to a 33-8 record and three AMCC titles. As a freshman, she batted .409 and played in her first NCAA tournament. A year later, she was the AMCC and ECAC Division III player of the year. In her junior year, she again led the conference in hits, with a .405 batting average. She still holds the program records for hits (220), singles (163) and games played (172).
·         David Koerbel, a two-time AMCC pitcher of the year. As a junior, he pitched five complete games, including two shutouts, and struck out 73 batters. Collegiate Baseball magazine named him a "Player to Watch." As a senior, he finished 9-1, with 83 strikeouts, and was named to the ABCA Rawlings Mid-Atlantic All-Region second team. He graduated as the program leader in wins (27), innings pitched (238.2), strikeouts (251) and complete games (18).
·         Julie Koman Gasdick, a four-time All-AMCC softball player. She earned AMCC newcomer, player and pitcher of the year honors while leading the team to three NCAA tournament appearances. As a junior, she led the conference in strikeouts and posted a 1.60 ERA. In her senior year, she built a 16-2 record, with 12 complete games, and was named to the ESPN Academic All-District team. She continues to hold the program records for wins (59), appearances (95) and strikeouts (690).
·         Phil Stuczynski, a seven-time ECAC All-Conference runner and Academic All-American. As a freshman, he set a school record in the 200-meter run. Two years later, he set top-10 program marks in the 55-, 200- and 300-meter events. He also anchored the 4x100 relay. By his senior year, Stuczynski was ranked 21st in the nation in the 100-meter event.
The college also honored several teams of distinction: the 2009 baseball, softball, men's cross country, men's and women's swimming and diving, and men's and women's tennis teams, which excelled in conference competition and beyond.
Contact
Robb Frederick
Assistant director, news and information, Penn State Behrend
Jill Yamma
Sports information director, Penn State Erie, The Behrend College