Erie companies are expected to produce nearly 240,000 new face shields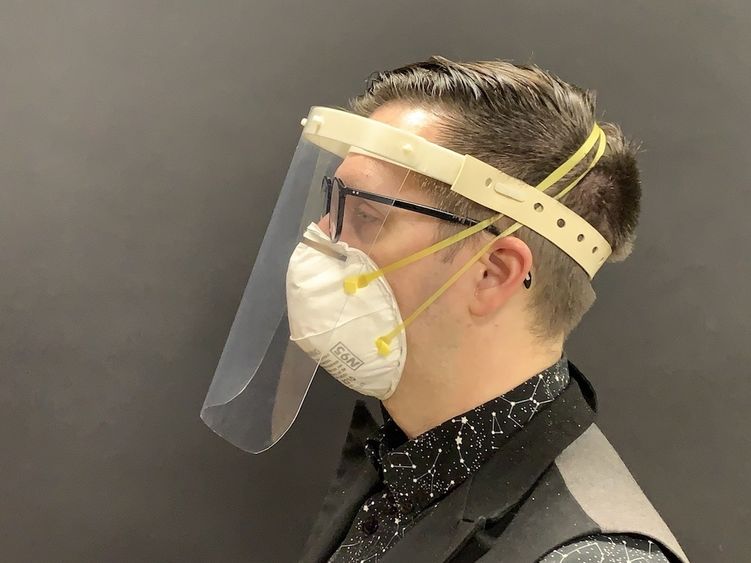 Researchers at Penn State Behrend and Case Western Reserve University have partnered with manufacturing companies in Erie and Ohio to produce face shields for medical professionals who are treating patients who have the COVID-19 virus. They expect to produce nearly 240,000 shields.
A $6,700 grant from the Erie County Gaming Revenue Authority will accelerate the project, which could produce 5,000 face shields every day, beginning April 9.
The Pennsylvania Department of Health has reported a critical shortage of protective gear for medical workers, including face shields and N-95 masks. The department has confirmed more than 4,800 cases of COVID-19 in the commonwealth, with 63 deaths.
As the number of Pennsylvania cases increased, Jason Williams, an assistant teaching professor of engineering at Penn State Behrend, began to look at open-source designs for protective face shields. A colleague at Penn State's University Park campus had asked Williams if one of the designs, which was configured for use on a 3D printer, could be adapted for injection molding. That would allow companies to scale up their production of the protective shields.
"We need to speed up the manufacturing process," Williams said. "Our hospital and health-care workers desperately need these protective materials."
A contact at Port Erie Plastics linked Williams to Ian Charnas, director of innovation and technology at the Sears think[box] at Case Western Reserve. With help from Bill Rabbitt, an engineer at Nottingham Spirk, a Cleveland-based product design company, they modified an open-source design for a plastic face shield with a polypropylene frame and a rubber strap.
"We knew there was a critical need for protective wear that could be quickly assembled and mass-produced," Rabbitt said. "We were able to assemble a team that could make this a reality in less than a week."
The team's design creates a shield that is thinner, with components that can be cut on a rolling die machine. That reduces the cutting time from 30 seconds to less than one second.
The switch to a polypropylene frame creates even more efficiency: The original design was configured for a 3D printer, with a minimum build time of three hours per frame. Injection molding cuts that to less than 40 seconds.
The polypropylene also is easier to clean, making the shield safe to reuse. Headbands produced through traditional 3D printing can be sterilized only in a hydrogen peroxide vapor chamber. The new design can be sterilized in a medical autoclave, which is standard equipment in most medical settings.
Williams, Charnas and Rabbitt have created a website for their White Label Face Shields. They are making their patterns and downloads available to the public at no charge.
They also developed a supply chain that includes three Erie manufacturing companies: Port Erie Plastics, which is building the mold and molding the frames; Munot Plastics, which will produce the shields; and Bliley Technologies, which will manage logistics and distribution to the Erie, Cleveland and State College communities.
The R.C. Musson Rubber Company in Akron, Ohio, will make the rubber straps. Die Cut Products of Cleveland will supply additional clear shields.
"We put all of this together in a week," Williams said. "We were able to move quickly because of our relationships with the manufacturing community and with ECGRA, which has shown a consistent commitment to seeking and supporting projects that move Erie forward."
'We Are' stories
The "We Are" spirit is perhaps more important than ever before, and Penn Staters everywhere are coming together in new and amazing ways. During these challenging times, our community is continuing to realize Penn State's commitment to excellence through acts of collaboration, thoughtfulness and kindness. As President Eric Barron has written on Digging Deeper, this truly is a "We Are" moment — and we want to hear your "We Are" stories.
Visit news.psu.edu/WeAre to share how you or other Penn Staters are supporting each other to overcome the collective challenges presented by the novel coronavirus. We are!
Contact
Robb Frederick
Assistant director, news and information, Penn State Behrend