Erie companies will soon double production, making 10,000 shields a day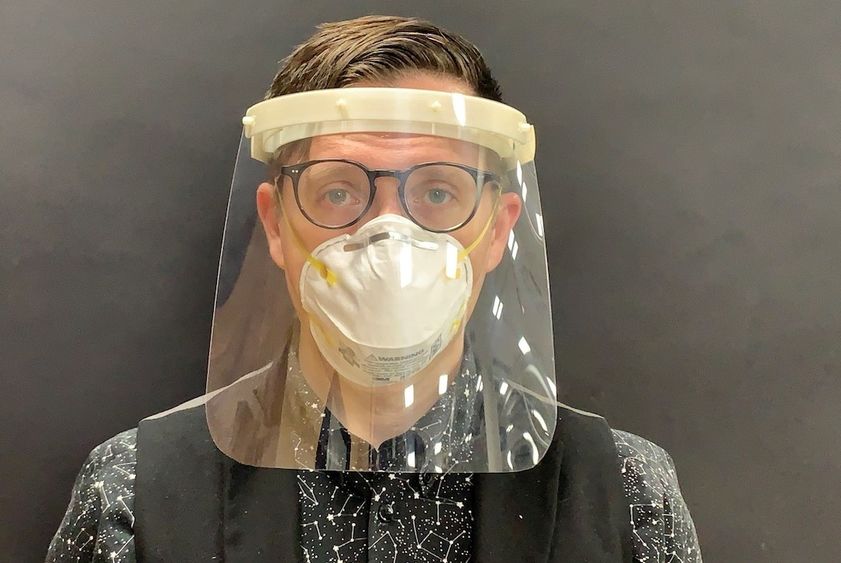 Erie companies have shipped more than 50,000 locally produced medical face shields to hospitals, health-care workers and first responders in three states. The shields, which were designed in part by Jason Williams, an assistant teaching professor of engineering at Penn State Behrend, are essential protective gear for medical personnel treating patients who have the COVID-19 virus.
The companies are producing 5,000 shields every day. New funding from the Erie County Gaming Revenue Authority will create an additional mold for mass production of the shields, doubling that output.
The Pennsylvania Department of Health has reported a critical shortage of protective equipment for medical workers, including face shields.
Williams worked with engineers at Case Western Reserve University and Nottingham Spirk, a Cleveland-based product design company, to modify a plastic face shield for injection molding. That enabled companies to scale up production of the shields, which have a polypropylene frame and a rubber strap. The original design, which was configured for a 3D printer, required a minimum build time of three hours for every frame. Injection molding cut that to less than 40 seconds.
"Our hospital and health-care workers desperately need these protective measures," Williams said. "We needed to do this quickly, so we tapped into a network of local companies that we knew could help."
Port Erie Plastics built the mold. Munot Plastics is producing the shields. Bliley Technologies is assembling the shields and managing logistics and distribution. Lake Erie Transport is shipping orders at a reduced rate.
"Three weeks after our first meeting, we had product on a pallet, shipping to customers," said Steve Rosenzweig, director of finance at Bliley Technologies. "That's a quick turnaround, and it underscores the vendors' commitment to this project."
The companies are completing the work at cost, Rosenzweig said. Williams and the other designers have made their patterns and downloads available to the public at no charge. Details are at their White Label Face Shields website.
The first shields were shipped to the Cleveland Clinic, which has ordered 100,000 kits. The Office of Emergency Management in Ohio's Cuyahoga County ordered 10,000 more.
Shields also have been shipped to communities in Pennsylvania and western New York.
Rozensweig is working with a purchasing group that plans to distribute face shields to nursing homes, doctor's offices and other health-care sites in Pennsylvania, Ohio and Michigan. Fire departments also are buying the shields.
"They're aggregating their orders – buying in bulk, and then distributing the shields to the different departments that need them," Rosenzweig said.
The Erie County Gaming Revenue Authority has ordered 500 face shields, which will be distributed to Erie County fire departments and the Erie County Sheriff's Office.
ECGRA has been an essential partner in the project. A $6,700 grant from the agency paid for the production mold. An additional $15,600 from ECGRA will provide a second mold for the headband that secures the face shield, as well as die-cutting of the assembly's rubber strap. That will double production, creating 10,000 shields every day.
'We Are' stories
The "We Are" spirit is perhaps more important than ever before, and Penn Staters everywhere are coming together in new and amazing ways. During these challenging times, our community is continuing to realize Penn State's commitment to excellence through acts of collaboration, thoughtfulness and kindness. As President Eric Barron has written on Digging Deeper, this truly is a "We Are" moment — and we want to hear your "We Are" stories.
Visit news.psu.edu/WeAre to share how you or other Penn Staters are supporting each other to overcome the collective challenges presented by the novel coronavirus. We are!
Contact
Robb Frederick
Assistant director, news and information, Penn State Behrend