Cast will be on-camera, in individual rooms in Perry Hall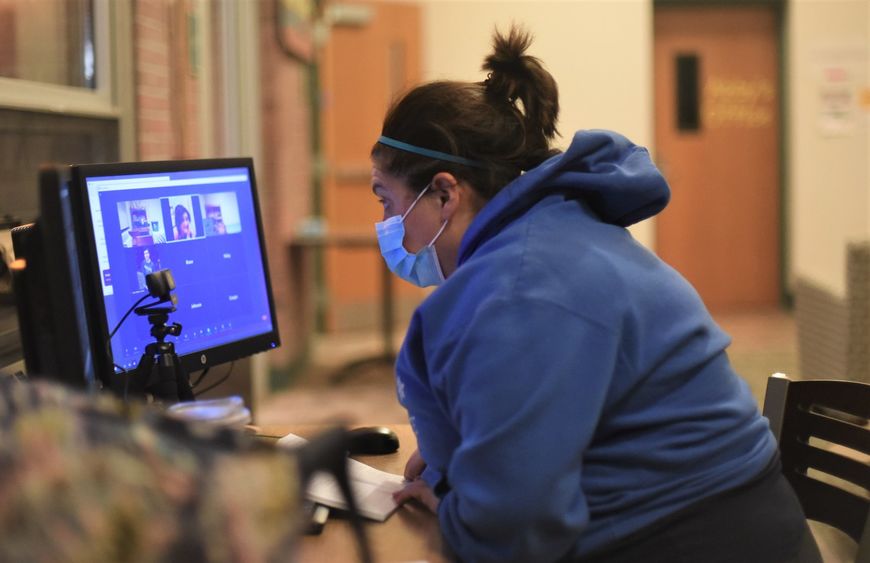 ERIE, Pa. — The show must go on, right?
The fall theater production at Penn State Behrend — a four-day run of "Really Really," by Paul Downs Colaizzo — will begin Nov. 5. Like most programs at the college this fall, it will take a new form, due to the need for social distancing during the pandemic.
The college's Studio Theatre is a small room: It seats 40, and only when the guests are close together. That isn't possible in the COVID environment, so Emily Cassano, assistant teaching professor of music, theater and visual arts, will direct her cast from a different building. They've moved to Perry Hall, one of the college's residence halls, where they will stream their performances live, online, from individual rooms.
The cast will interact through their computer monitors.
"The play really lends itself to this format," Cassano said. "Throughout most of the performance, you're only seeing the actors communicate through Zoom, or using their phones."
"Really Really" was first performed in 2012. It won the Charles MacArthur Award for Outstanding Original New Play or Musical. It isn't a light production: The text centers on a group of college students dealing with unintended pregnancy, drinking and sexual assault.
"All seven of them are facing the consequences of one evening," Cassano said. "There are a lot of twists and turns, and it feels current, especially in the video format. It doesn't look like a staged reading of the play."
Kate Meszaros, a mechanical engineering technology major, was cast as Grace, the churchgoer of the group. "Really Really" is the fourth production she has participated in at Behrend.
"We have to portray through the screen what we would do on a stage," she said. "You have to convince people what you're feeling just through what they can see from the waist up. It really makes you think about the importance of hand gestures, body posture and facial expressions."
Meszaros said she will miss interacting with the audience during performances.
"There's an adrenaline rush right before you go on stage, and I think I'll miss that feeling," she said. "I don't think you'll get that through a screen."
She also has missed the backstage camaraderie that develops between a cast and crew. Rehearsals for "Really Really" began with the students at home, in front of their computers. This week, they moved to Perry Hall, where each cast member was assigned a room.
That backdrop will serve as the stage, Cassano said.
"We're decorating the rooms as if the characters were actually living there," she said. "That's what the audience will see as the background."
Meszaros plans to return for another production in the spring. She's hoping for a live audience that time — even if that requires an outdoor performance.
"I hope everything will get back to normal," she said. "We all hope that."
Details:
"Really Really," by Paul Downs Colaizzo
Nov. 5, 6 and 7 at 7:30 p.m.; Nov. 8 at 2 p.m.
Tickets are available at this link
$5 for Penn State students, faculty and staff ($15 for a viewing party)
$10 for the general public ($25 for a viewing party)
Contact
Robb Frederick
Assistant director, news and information, Penn State Behrend