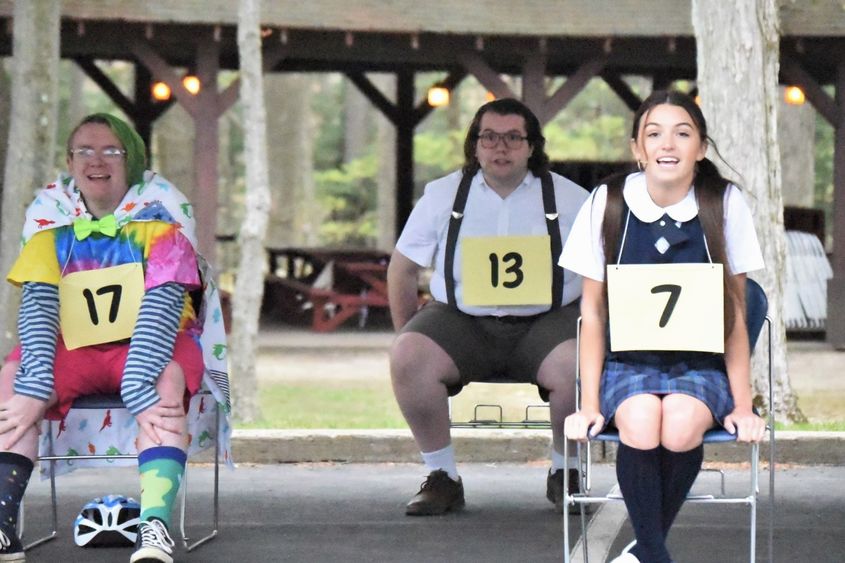 ERIE, Pa. — Art imitates life, right?
Penn State Behrend's fall theater production, like much of the country at that time, was locked down: The cast gathered on Zoom, performing from individual rooms in the college's Perry Hall.
"They made the most of it," said Emily Cassano, assistant teaching professor of music, theater and visual arts, "but they never had an opportunity to fully bond as a group. They were always in different rooms."
The spring production, which runs April 22-25, reflects the later stages of the pandemic. The performances will be outdoors, under tents on the Wilson parking lot. The cast will be together, but still distanced; audience members also will be separated, although those who purchased tickets as a group can sit together.
Cassano needed a show with a small cast and limited physical interaction. She chose "The 25th Annual Putnam County Spelling Bee," by Rachel Sheinkin and William Finn. The musical, which opened Off-Broadway in 2005, is a celebration of twitchy middle-school awkwardness: One contestant, beset with allergies, traces the letters with his foot as he spells each word. Another speaks six languages – she can say "hello" in seven more – but can't manage even a basic conversation with a boy.
"Most of the cast wasn't very familiar with it," Cassano said. "It was really funny, seeing their reactions as they got the jokes."
The show requires minimal staging. It's typically set in a middle-school gymnasium. Cassano made one adjustment to maintain physical distancing: Rather than sit the contestants on bleachers, where they wait their turn to spell, she positioned them in chairs, which she spaced nine feet apart. The audience will be seated in a second tent.
That should address any concerns about the pandemic. Cassano can do much less about the weather: The cast ran through the final dress rehearsal with snow on the ground.
"We've talked a lot about how to layer under your costume," she said. "And how to hide a tissue.
"The cast is up for this," she said. "They absolutely want to be here. There were days when we had practiced for an hour and a half, and I said, 'Let's stop here. Let's give you a break.' And they would always say, 'Can we stay?'"
Penn State Behrend's production of "The 25th Annual Putnam County Spelling Bee" will be staged on the Wilson parking lot beginning at 6:30 p.m. on April 22, 23 and 24, and at 2 p.m. on April 24 and 25. Tickets, which cost $5 for Behrend students, faculty and staff, and $10 for the public, can be reserved at https://www.showtix4u.com/event-details/50621.
Contact
Robb Frederick
Assistant director, news and information, Penn State Behrend