Studio Theatre's two-week run of "Bright Star" already has sold out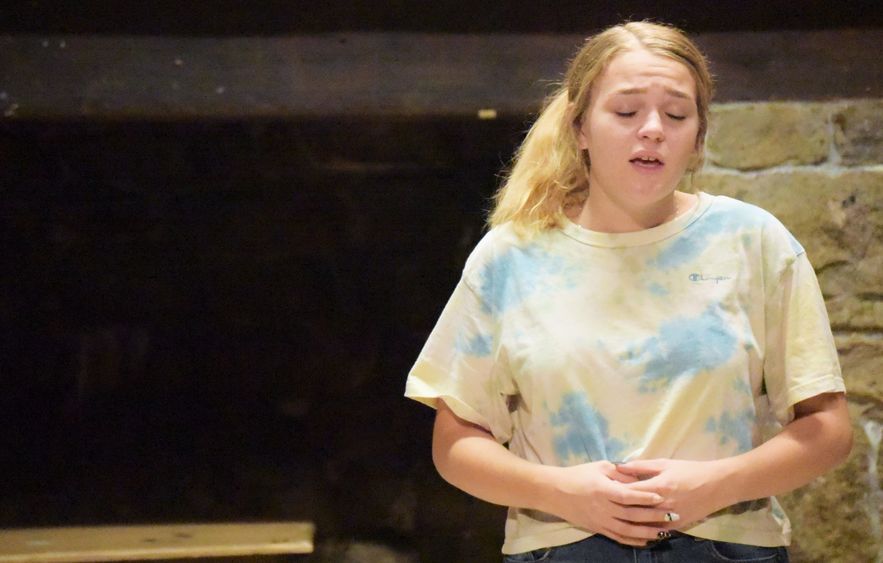 After a two-year intermission – a COVID pause for social distancing – the lights are back on at Penn State Behrend's Studio Theatre, which will host a sold-out production of "Bright Star," beginning Nov. 4.
Written by Steve Martin and Edie Brickell, "Bright Star" tells a sweeping tale of love and redemption in the American South in the 1920s and '40s. Drawing on songs from the pair's 2013 Grammy Award-winning collaboration, "Love has Come for You," and the follow-up, "So Familiar," the musical tells the story of literary editor Alice Murphy, who meets a young soldier just home from World War II.
The story, which was inspired by true events, is framed by hauntingly beautiful bluegrass and folk music. Emily Cassano, assistant teaching professor of music, theater, and visual arts, was moved the first time she read it.
"Normally, when you are reading a musical script, it's hard to get a sense of a show, because it is not meant to be read," she said. "I got full-on shivers up my spine as I read this, however. I thought, 'Wow, that has never happened before.'"
Cassano shelved the script at the start of the pandemic, when indoor group activities were suspended at Penn State. She took a novel approach to the theater's next two productions: a fall play that was performed virtually, with cast members in individual rooms at Perry Hall, and a spring musical staged outdoors, under tents in the Wilson parking lot.
Those productions kept her student cast together as much as possible. But the mood is noticeably different with the performers back on the same stage.
"It's been incredible," Cassano said. "I can't put into words what live performance has meant, and how it feels to see all of the students in the same room."
The reunion has brought a new challenge, however:
"I can't get the cast to stop talking," Cassano said with a laugh. "They had been so starved for contact. They are so attached, and so connected, and I think it has meant the world for them to be back together."
The cast has been energized by the return to Behrend's Studio Theatre, a small, rough-hewn barn room in front of Glenhill Farmhouse.
"I have always loved performing in our theatre," said Kate Meszaros, a senior from Cambridge Springs. "It may be small, but the rustic atmosphere always makes performing in there so much more exciting. It is the perfect setting for 'Bright Star.'"
To accommodate a full cast, Cassano had to double-cast some of the roles. Meszaros is one of two performers cast as Alice.
"Being able to connect with the others on stage has meant so much more to me, after being apart," she said. "It's so great to see everyone's faces again. We really are like a big family."
Jordan Loy, a sophomore from North Huntington, will be Billy Cane, the soldier who senses a deeper connection to Alice. He's looking forward to making his debut on the Studio Theatre stage.
"Last year, it was really just us staring at a Zoom screen, not seeing any reaction," he said. "It was hard to tell what was landing with the audience and what wasn't. Now, we are able to use lights and sounds again, and all the other aspects of a theatre production."
Unlike the spring production, which included an outdoor performance in snow, "Bright Star" will be a return to normalcy for the audience as well.
"They won't need earmuffs and gloves," Cassano said. "The audience is number one. You just can't beat that feeling of being in a room with those dynamics."
"Bright Star" will be performed Nov. 4, 5, 6, 11 and 12 at 7:30 p.m., and Nov. 13 at 2 p.m. Additional shows may be added; details will be posted at the ShowTix4U ticket portal.
Contact
Robb Frederick
Assistant director, news and information, Penn State Behrend