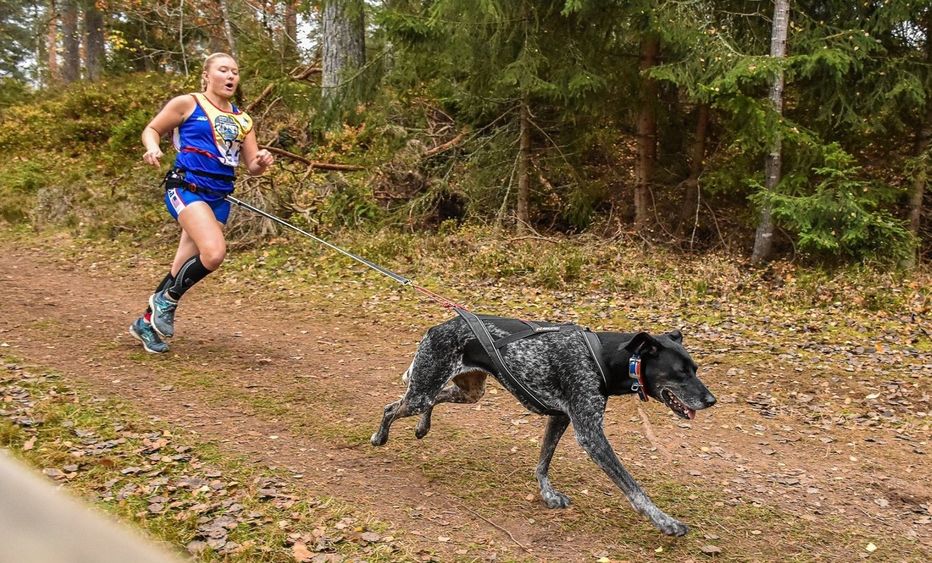 ERIE, Pa. — That image you have of dog sledding, with the hardy Alaskan bundled in fur riding a clattering sled pulled by huskies? Try this instead: a fit young woman furiously pedaling a mountain bike, riding through the woods while tethered to a dog.
It's called bikejoring, and it's a form of dog-mushing done on dry land. It's one of two events — the other is canicross, a cross-country race with a dog tethered to your waist — that Penn State Behrend student Emily Ferrans competes in with her dog, Marge.
"We work together," said Ferrans, a sophomore from Cranberry Township. "People sometimes assume the dog is doing all the work, but that is definitely not the case, especially in dryland events."
Ferrans — along with Marge — represented Team USA at the 2019 IFSS Dryland Sled Dog World Championships, which were held in Sweden. They competed against teams from more than two dozen countries. They didn't win, but Ferrans learned a great deal from the experience.
"In the U.S., Marge and I dominate our events," Ferrans said, "but it was different in an international setting. The Nordic teams are very athletic, and their dogs are a different breed: They run Greysters, which are a German shorthaired pointer and greyhound mix bred for sprint racing. It was humbling and awesome to even be on the trails with them."
As a teen, Ferrans tried her first trail runs with a different dog — Duchess, a high-energy mutt that lived with her family.
"My dad is a commercial pilot," Ferrans said. "He was in Sweden and saw dogs pulling skiers, and he wondered if that was something we could do with Duchess. He began researching different types of dog-mushing, and Duchess took right to it. We ran her for years."
Ferrans began dog-mushing when she was 13. She got Marge, her first official sled dog, at age 15.
"Marge was 5 and already trained when I got her," she said. "She is a Eurohound, which is a pointer-Alaskan husky cross-bred specifically for sprint races of less than five miles. These types of dogs have the drive and pulling instinct of the husky, but the intelligence, sleekness and shorter coat of the pointer, which is better for the warmer temperatures of dryland racing."
Marge reached the pinnacle of her racing career in Sweden. At almost 9 years old, it's time for her to slow down a little.
"She'll be living the good life at home with my parents," Ferrans said. "I will still be doing a handful of fun races with her, but without any pressure. She'll probably retire fully in a few years."
Ferrans, a marketing major, plans to continue in the sport, but she won't get another racing dog until she graduates.
Until then, she'll stay in shape, running hills as a member of Penn State Behrend's track and cross-country teams. "Dryland mushing has a lot of hills, much like a cross-country course," she said.
She runs faster with Marge.
"Running with a canicross dog can definitely be more painful and physically demanding," she said, "but the result is a much faster time than I could ever achieve on my own. A well-trained dog can take one or two minutes off your mile time. The challenge is learning to go with the dog and maintaining good form at a much higher speed."
She runs nearly every day, but she limits her canicross runs with Marge to once a month.
"Canicross puts a lot of stress on the body, and it can lead to injury if you aren't careful," she said. "However, I can say canicross has made me a much better runner. It exposes my legs and lungs to speeds that would otherwise not be attainable, and that muscle memory and foot speed is a tremendous help during cross-country and track."
Contact
Heather Cass
Publications and design coordinator
Penn State Erie, The Behrend College