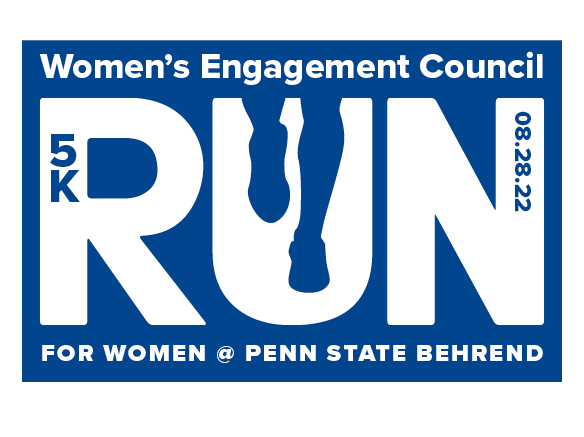 ERIE, Pa. — Registration is now open for the inaugural Women's Engagement Council's Run for Women 5K at Penn State Behrend. The run and walk will begin at 8 a.m. on Sunday, Aug. 28, and will conclude with a post-race party with free Berkey Creamery ice cream.
The 3.1-mile course begins at Behrend's Advanced Manufacturing and Innovation Center (AMIC) on Technology Drive. Participants will travel down Technology Drive and complete a full loop and a quarter of Knowledge Parkway before returning to AMIC.
The race cost is $25 with a t-shirt, or $20 with no shirt. Every finisher receives a prize; the top three women finishers, and top three women in each 5-year age group will receive awards created by Behrend students and printed in the college's James R. Meehl Innovation Commons.
The race is directed by Heather Cass, publications manager at Behrend. Cass founded and directed the Her Times Women's 5K, which was held for 15 years at Presque Isle State Park.
"Our goal with the Run for Women event is to create the same positive environment we had at the Her Times races, where women felt encouraged and inspired by one another whether they were there to win, push for their best run time, or complete their first 5K walk," Cass said. "Women can be both competitors and friends who support one another."  
Proceeds benefit the Women's Health Initiative at Behrend and will support research by Behrend faculty members and students in the field of women's health.
To learn more about the Run for Women, or to register, visit behrend.psu.edu/wec.
With the record-breaking success of "A Greater Penn State for 21st Century Excellence," which raised $2.2 billion from 2016 to 2022, philanthropy is helping to sustain the University's tradition of education, research and service to communities across the Commonwealth and around the globe. Scholarships enable our institution to open doors and welcome students from every background, support for transformative experiences allows our students and faculty to fulfill their vast potential for leadership, and gifts toward discovery and excellence help us to serve and impact the world we share. To learn more about the impact of giving and the continuing need for support, please visit raise.psu.edu.
Contact
Heather Cass
Publications and design coordinator
Penn State Erie, The Behrend College