150-mile trek raised money for Erie-based Voices for Independence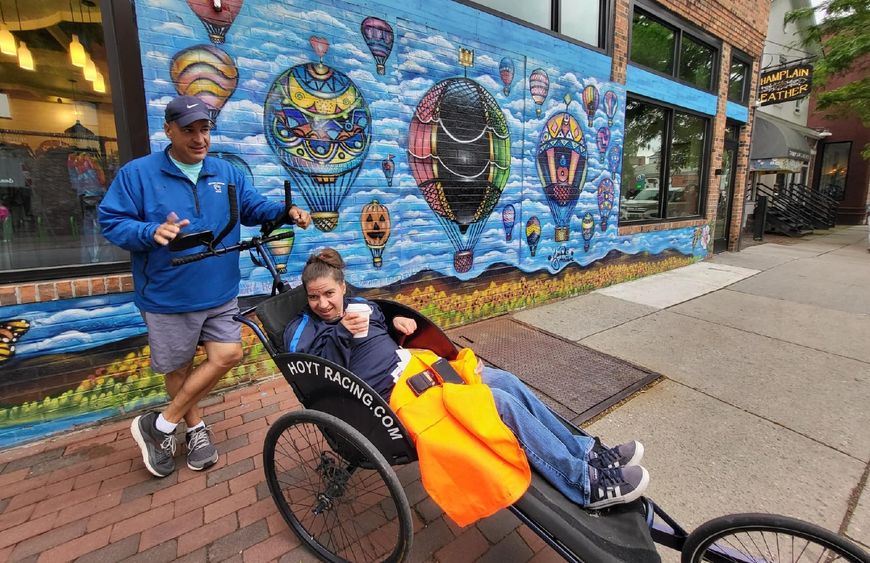 ERIE, Pa. — Penn State Behrend men's soccer coach Dan Perritano didn't exactly take the offseason off: Beginning in May, he walked across Vermont, logging more than 150 miles while pushing his 24-year-old daughter, Emma, in a specialized Team Hoyt racing chair.
Emma has cerebral palsy. Every summer, she and Perritano complete a long-distance walk, raising money for charity along the way. This year's trip benefited Voices for Independence, a center for independent living in Erie.
"We don't have a reason for choosing a certain destination," said Perritano, who started the walks in 2015. "We just look for someplace cool."
The pair have crossed Pennsylvania several times. They also have explored Colorado and walked to Washington, D.C.
This year's trip began near Bennington, Vermont, and concluded 10 days later near the U.S.-Canada border, where they were presented with medals at a U.S. Customs station in Swanton. Perritano posted a travelogue on the Emma and Dan's Annual Journey Facebook page.
Perritano mapped the route using Google Earth and YouTube videos by other travelers. His wife, Jane Brady, Behrend's registrar — and Emma's mom — trails the pair in a support van. She picks them up each night and returns them to the route the next morning.
Despite the planning, the trips always bring surprises. This year, for example, Perritano planned to walk north along Route 7. At one point, however, the road became a highway.
The pair diverted to Route 7A. They accidentally crossed into Canada at an unmarked border area.
"The easy part is the walking," Perritano said.
The journey also led them to some pleasant surprises: a farmer's market, a Relay for Life event, and a random meeting with a nurse who had worked at Emma's former elementary school.
As they walk, the Perritanos listen to music. Emma is nonverbal but has a keen memory for songs. She favors Taylor Swift and Broadway showtunes. On average, five songs take them a mile.
The pair ended this year's walk with a total of 321,315 steps — and $5,000 raised for Voices for Independence.
"They have done a really good job of supporting the walk," Perritano said of the group, which provides home modifications and personal-assistance services.
On the road, however, from Manchester to Mt. Tabor to St. Albans City, he saw the walk primarily as a way to spend quality time with his daughter.
"We both like to keep moving," he said. "When we walk, we are isolated, so we are just with each other.
"From the second Emma gets in the buggy," he said, "she loves it."
Contact
Robb Frederick
Assistant director, news and information, Penn State Behrend