Envision camp introduces junior athletes to modified hockey, lacrosse and archery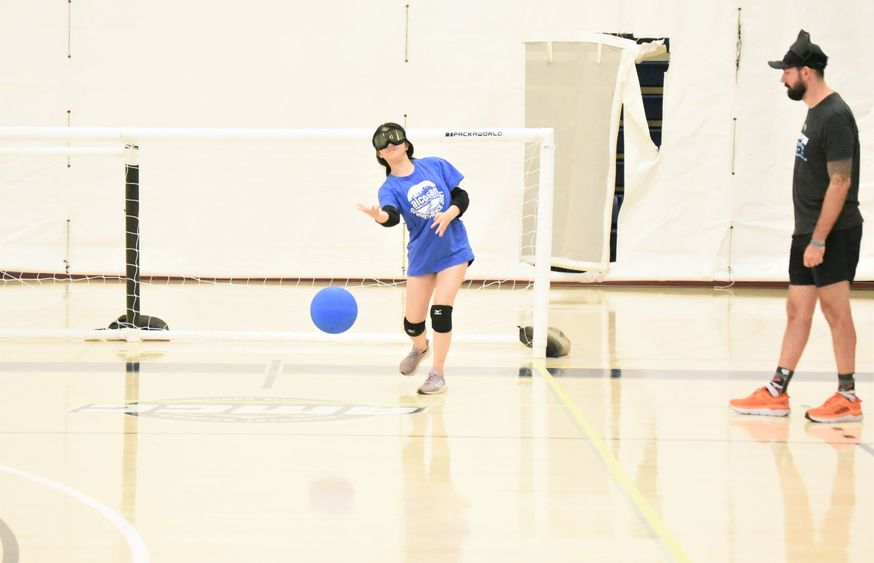 ERIE, Pa. — The game was delayed when one of the boys put his eyes in backward. The players were soon ready, however; they lined up three to a side, defending nets that stretched the width of the court.
"This is going to be fun," said Jackson Himmelberger, a 14-year-old from Berks County. He's a wrestler, a wiry 87-pounder, but for the day he had switched to goalball, a Paralympic sport first developed for veterans who were blinded in World War II.
Himmelberger has been blind since birth. To make the game fair — an overarching goal of the Envision Blind Sports summer camp, which brought more than 60 vision-impaired junior athletes to Penn State Behrend this month — any player with any degree of sight wore ski goggles with the lenses blacked out.
The pro teams take that a step further: In June, at the world championships in Hangzhou, China, the players wore adhesive eye patches beneath their goggles.
The referee called for quiet. There were bells in the ball, which players throw with a bowling motion. The defenders listened for the bells and then dove toward the sound, on their sides, arms stretched over their heads, their top leg raised slightly in case the ball bounced. They tried to block the ball with their bodies before it rolled into the net.
"Quiet, please," the referee said again. But there were two more courts, and both were being used for other sports. There were blind kids testing their balance on longboards, or wrestling, or practicing judo throws. Outside, on the turf field, they were learning lacrosse, hurling a ball that whistled in the air.
Luke Snyder was in the pool. He's 14 and swims for his school in Bloomsburg.
"I'm big on swimming," he said. "I'm comfortable in the water. I like the way it feels."
The Envision camp is open to vision-impaired youth between the ages of 5 and 18. It introduces them to sports they haven't tried, such as archery, rock climbing, and horseback riding. Other events are modified to keep the athletes safe. In the pool, for example, counselors tap the swimmers' shoulders with a foam pool noodle to signal that they are close to the wall.
"We want them to have an opportunity to be active," said Jillian Stringfellow, the camp director. "Then, when they're ready, they can push themselves to their limit."
This year's group spent a week at Penn State Behrend, traveling from 10 states, including Colorado and Hawaii. They played soccer and floor hockey and threw foam-tipped javelins. They bounced at a trampoline park and navigated a treetop ropes course.
"Some of these kids have been sidelined their whole lives," said Wendy Fagan, an instructor in the adapted physical activity program at Slippery Rock University. She founded Envision Blind Sports in 2007. In addition to the summer camp, she leads day clinics and competitions. In the winters, her athletes ski; in the summers, they paddleboard and play golf.
At the Behrend camp, between matches, they sat in small groups, talking, laughing and discussing strategy for their favorite computer games.
"Every day in school, these kids feel different," Fagan said. "They know people are looking at them. Here, they are with kids who are just like them, and they become lifelong friends."
On the court, however, the competition was often intense.
"They learn they can play sports that maybe they thought were closed off to them," Fagan said. "That builds a lot of confidence.
"We also give them an opportunity to just be kids — to run and play and be part of a team," she said. "That's fundamental to the development of any child. It influences so much about how we move through the world."
Contact
Robb Frederick
Assistant director, news and information, Penn State Behrend