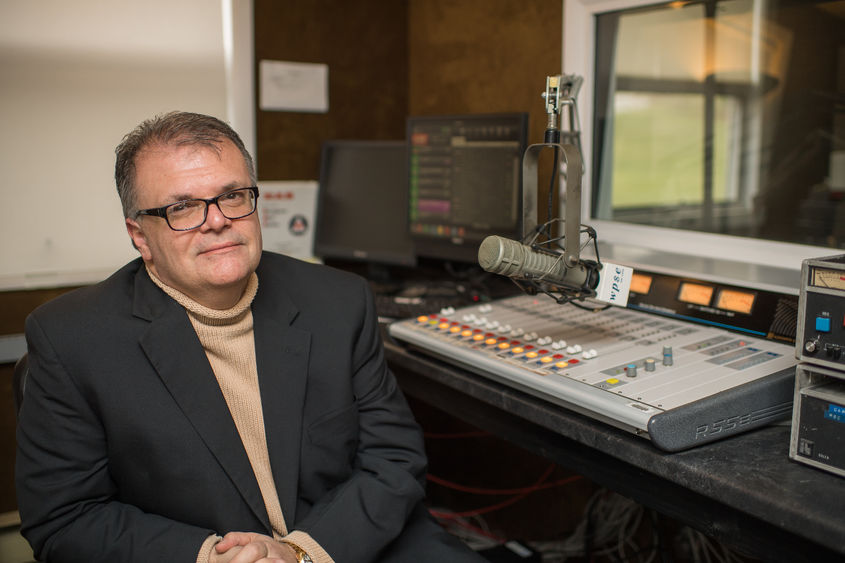 ERIE, Pa. — The program hosts on Penn State Behrend's WPSE radio — Erie's only news-talk station for money and business programming — often discuss the importance of diversifying a portfolio.
In recent years, the station's general manager, Joe Martin, has taken that advice to heart, adding local and professional sports programming to WPSE's schedule. Listeners can access the broadcasts at 1450 AM/107.1 FM, or online at wpse.bd.psu.edu/.
"The business format is still our bread and butter, and always will be," Martin said. "But we have found we can serve a business audience when the markets are open and provide live, local, play-by-play high school and professional sports programming nights and weekends. That's a combination that delivers in a way no one else does in Erie."
The station's core programming features Bloomberg Radio, breaking world and business news from CBS News and FOX News and "The Dave Ramsey Show," "Gordon Deal" and "Jim Bohannon," among other syndicated programs. WPSE also produces "Partners for Business," an interview series that showcases regional business, health care and educational enterprises.
Evenings and weekends, the station pivots to sports: WPSE is now Erie's radio home for Penn State Nittany Lions football, Cleveland Browns football, "NFL Primetime" and post-season football — including the Super Bowl.
WPSE also broadcasts select Penn State Behrend games. Over the next year, the station will provide live, play-by-play coverage of more than 100 Erie County high school football and basketball games.
"We have the most comprehensive high school sports schedule of any radio station in the area," Martin said. "That has provided another avenue for us to generate a great audience on nights and weekends."
Martin assembled a team of top Erie sports analysts to provide play-by-play and color commentary, pairing Ray Riesdorph, Sean Amicucci and Alex Womer with John Leisering, a member of the Metro Erie Chapter of the Pennsylvania Sports Hall of Fame.
"There has been a void in this market for quite some time, particularly in the coverage of high school sports," said Riesdorph, who also works as WPSE's marketing consultant and associate producer. "We're allowing a school's fan base to hear what's happening, whether they're in Erie or anywhere else in the world, with games streaming live, online."
There was even more need for that in 2020, when safety concerns related to the COVID-19 pandemic sharply reduced the number of fans who could attend games in-person.
"We've gotten a lot of great feedback from alumni and families this season," Riesdorph said, "and we've been thrilled to be able to offer that service during such a difficult time. We know how hard it is for fans to get into a gym right now, and we know more than ever how important that sense of community during a game can be for people."
Contact
Robb Frederick
Assistant director, news and information, Penn State Behrend